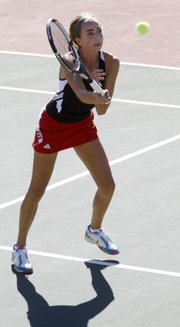 Lawrence High's No. 2 doubles team of Carly Davis and Haley Ryan didn't have the best start to their Monday afternoon. In fact, they were downright angry.
After failing to win a game against Topeka Washburn Rural at the Lions' home tennis quadrangular, the two gathered and addressed what they could do to make the rest of their matches enjoyable.
"We realized," Davis said, "that when we get into a bad mood, it kind of ruins the rest of the game for us. And we play even worse the madder we get."
Altering their demeanors not only helped them recover for victories in their matches against Topeka West and Topeka, but also earned LHS 2-2 draws in its match-ups with those two schools after being swept, 4-0, by Washburn Rural, the No. 3 team in Class 6A.
Ryan, a junior, said the pair eased the tension, in part, by coming up with a handshake.
"It worked. I think it kept us positive," the junior said.
Jubilation easily outweighed displeasure as Davis and Ryan won, 8-1, against both TWHS and Topeka to finish 2-1 at the quad.
Said Davis, a senior: "We were making really good shots, and things were going our way."
LHS coach Chris Marshall pointed out that Lily Abromeit and Brooke Braman typically hold the No. 2 doubles spot, but Davis and Ryan filled in and proved to be nearly as competitive.
"Those girls (Davis and Ryan) are starting to understand that the way to the play the game has a lot to do with where the ball's placed," Marshall said.
The Lions' coach would have preferred a more successful afternoon at the quad. Sophomore Kendall Pritchard, Lawrence's No. 2 singles player, was the only other LHS player to earn a victory. After dropping an 8-0 match to Rural's Mackenzie Hill, Pritchard rattled off wins of 8-4 against Topeka West's Reegan Miller and 8-3 over Topeka's Claire Joens.
Marshall, though pleased with the splits Lawrence earned via its No. 2 players, wished the No. 1 players could have done a little better.
In singles, junior Whitney Simons suffered 8-6 losses in back-and-forth matches with Topeka's Whitney Holloman and Topeka West's Jodie Ladner after an 8-1 loss to Rural's Madeline Hill, one of the state's top players. Just winning a game against Rural's ace, Marshall said, was no small feat.
The LHS No. 1 doubles team of Zoe Schneider and Abby Gillam couldn't find a win, either, and finished 0-3.
"It's such a short season," Marshall said, "it's tough to get where you need to get."
Copyright 2018 The Lawrence Journal-World. All rights reserved. This material may not be published, broadcast, rewritten or redistributed. We strive to uphold our values for every story published.