Overland Park — I thought it only happened in cartoons. Roadrunner would trick Wile E. Coyote into falling off a cliff and poor Wile E. would get scrunched up like an accordion. In the next scene, Wile E. Coyote would be good as new. Then he'd get flattened on the pavement by a semi. Sure enough, the next scene he'd sport not even a bruise.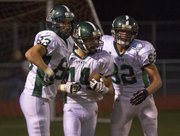 It doesn't just happen in cartoons. In happens in high school football, too. If you don't believe that, then you never have seen Tye Hughes, No. 14 for Free State High, play.
One minute he's on his back, the wind knocked out of him and into the next county. The next minute he's intercepting a pass and running it back 19 yards.
One minute he's limping off the field, his cramped-up calves burning as hot as his passion to play the game of football, and the next minute he's back in there running around looking for someone a whole lot bigger to hit.
A senior, Hughes, all 5-foot-11 and 160 pounds of him, starts at receiver and outside linebacker, returns punts and returns kicks. For the first time in his career, he had the chance to field a punt on the last play of the first half Friday. The play was designed to suck the defense in the other direction, it worked beautifully, and Hughes didn't stop running until he was in the end zone.
The 62-yard return stood as the biggest play in Free State's 28-14 victory against a Shawnee Mission West football team that played extremely physical football through the whistle and then some. It sent Free State into the locker room leading 21-7.
Hughes, one of those receivers who has a knack for getting the first down, caught four passes for 53 yards. Watching Hughes play football, it's natural to picture him wrestling and running track, but he doesn't. It's all football all the time.
"I'm more of a keep-going, keep-playing (athlete)," he said. "In track, you're in three events and you're there for like five hours. I don't have the patience to do that. I used to wrestle, but not anymore. I've been working out a lot, focusing on football."
Hughes said he improved his speed and agility working during the summer with Keith Loneker, his teammate's father and a former Kansas University and NFL offensive lineman.
"He's a great guy to be around and really knows what he's doing and how to teach you to get better," Hughes said.
Hughes delivered his share of hits Friday, but none as devastating as the licking he took going over the middle trying to catch a pass. He stayed down for a brief eternity.
"I couldn't breathe for like 10 seconds," he said. "I was fine. I just had to get my breath back."
He got it back and used it to run around hitting people again.
If only Hughes, one fiery 'Bird, weighed about 100 more pounds, stood about a half-a-foot taller and had a long, black pony tail and massive ego, he could replace Steven Seagal for the next Hard to Kill flick.
Copyright 2018 The Lawrence Journal-World. All rights reserved. This material may not be published, broadcast, rewritten or redistributed. We strive to uphold our values for every story published.