Overland Park — Free State High's football team arrived Friday night at Shawnee Mission South District Stadium ready to drop a bombshell on Shawnee Mission West.
Photo Gallery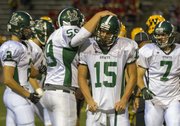 Free State football vs. Shawnee Mission West
What better way to do it than through the air?
After attempting three passes the entire game a week earlier, the Firebirds and senior quarterback Kyle McFarland connected on deep throws each of their first two plays — 37 yards to a leaping Keith Loneker followed by 43 yards to a wide open Zach Bickling, who refused to let the ball leave his grasp as he ran in for a touchdown.
The befuddled Vikings never really recovered and McFarland led Free State to a 28-14 road victory.
A SMW defender, McFarland said, came up to him after the quick-strike drive that put Free State up 7-0 24 seconds into the game and asked him what happened.
"I've already completed one more (pass) than I did last game," an amused McFarland told his foe.
The Firebirds (2-0) didn't have much use for passing in the pouring rain of a blowout versus Olathe Northwest in the opener (McFarland completed one of his three passes), but on a cool, precipitation-free Friday against Shawnee Mission West (1-1), FSHS coach Bob Lisher and his staff knew they could let McFarland loose, and he connected on nine of his 21 passes for 161 yards and a TD in the win.
Tye Hughes (four catches, 53 yards) and Chris Heller (three catches, 28 yards) emerged as targets for the FSHS signal-caller, too, but McFarland couldn't get over the opening drive.
"We threw it where they weren't," he said. "Keith and Zach Bickling made two great grabs the first two plays and that's when we got the momentum."
It certainly didn't hurt that McFarland went on to rush for 133 yards and pick off two passes from SMW quarterback AJ Verdini.
Said Lisher of the game's star: "He had a heck of a night."
So, too, did the Free State defense. Even though starting linemen Cody Stanclift, Fred Wyatt and Riley Buller were banged up and had trouble moving, the Firebirds didn't allow senior Vikings running back Brett Sterback to bust enough long runs to change the game, despite his 152-yard rushing night and a TD.
So while Free State's offense imposed its will, racking up 401 yards, thanks in part to an 80-yard, two-touchdown performance from senior running back TJ Cobbs, the defense sat back, did its job and made plays.
Senior linebacker Corban Schmidt said the defense wanted to prove it could beat a good team.
"Everyone seems to think that Free State is really offense-oriented, but we love defense," Schmidt said. "We love to hit. We love to knock people off, and every chance we can get, we love to do some more of it."
The game very well could have been closer had the Firebirds not made the most of the Vikings' decision to punt on the final play of the first half. Hughes took a low, lining kick, faked a handoff to Joe Dineen (also back to field the punt) and took off down the left sideline for a 62-yard touchdown return with no time remaining in the second quarter.
The special teams majesty even had McFarland, who was watching Dineen, fooled.
"That's what really put us ahead," he said of the improbable score that gave FSHS a 21-7 halftime advantage.
When Free State had the ball in the second half, either McFarland, Cobbs or Demarko Bobo ate up chunks of yardage and clock with the ground game, which made Schmidt and the rest of the defense happy.
"Our running backs, they just go," he said, crediting the O-line for its constant push.
Even after Sterback's third-quarter TD cut Free State's lead to 21-14, the Firebirds moved the ball, turned it over on downs, then got it right back with an interception and 19-yard return by Hughes. Seven plays later, Cobbs rushed for the game's final score.
As happy as Lisher felt about the win, FSHS did commit eight penalties for 65 yards.
"We made enough mistakes," the coach said, "that obviously we can't make next week against Olathe South."
Box score
FSHS SMW
First downs 19 11
Rushes-yards 39-240 38-170
Passing yards 161 110
Total offense 401 280
Return yards 53 30
Fumbles-lost 0-0 2-0
Penalties-yards 8-65 4-44
Score by quarters
Free State 7 14 0 7 — 28
Shawnee Mission West 0 7 7 0 — 14
Individual statistics
Rushing
FS: Kyle McFarland 19-133, TJ Cobbs 15-80 2 TDs, Demarko Bobo 3-25, Tye Hughes 1-4, Joe Dineen 1-minus-2.
SMW: Brett Sterback 24-152 TD, Steffon Ward 4-19, Jaunyae Stallings 3-6, Rashaun Owens 1-5, AJ Verdini 4-minus-5, Rob Rice 2-minus-8.
Passing
FS: McFarland 9-21-161 TD, Kieth Loneker 0-1-0.
SMW: Verdini 5-13-110 TD two interceptions, Rice 0-1-1 interception.
Receiving
FS: Hughes 4-53, Zach Bickling 1-43 TD, Loneker 1-37, Chris Heller 3-28.
SMW: Andre Maloney 3-94 TD, Joel Spiiler 1-9, Ward 1-7.
HOW THEY SCORED
First quarter
11:36 — Zach Bickling 43 pass from Kyle McFarland. Antonio Schnoneich kick. (FSHS 7, SMW 0.)
Second quarter
11:13 — Andre Maloney 55 pass from AJ Verdini. Joey Reed kick. (FSHS 7, SMW 7.)
6:28 — TJ Cobbs 5 run. Schnoneich kick. (FSHS 14, SMW 7.)
0:00 — Tye Hughes 62 punt return. Schnoneich kick. (FSHS 21, SMW 7.)
Third quarter
7:53 — Brett Sterback 3 run. Reed kick. (FSHS 21, SMW 14.)
Fourth quarter
10:14 — Cobbs 6 run. Schnoneich kick. (FSHS 28, SMW 14.)
Copyright 2018 The Lawrence Journal-World. All rights reserved. This material may not be published, broadcast, rewritten or redistributed. We strive to uphold our values for every story published.