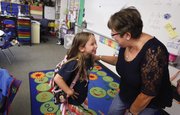 Who bakes us cookies just because? Who listens to our stories? Who snuggles us while we read?
Grandparents do, and that's why we love them.
That's at least according to the first-graders in Kristina Meyer-Szelewycz's class at Langston Hughes School. They celebrated Grandparents Day on Friday with a special "fun cheer" about their favorite things their grandparents and older friends and neighbors do for them. The class prepared for the day with stories and songs about grandparents. It's a schoolwide tradition, and the national grandparents day is Sunday. Meyer-Szelewycz said that, in other classes, relatives had flown in from out of state just for the occasion.
Kathy and Dave Barkes came just from Topeka, but said they were excited to be in their first grandchild's school for the first time.
"It's a good way to get grandparents involved in school; we don't always get to," Kathy said.
"Plus, we relive first grade," Dave said. "That was a long time ago."
Their granddaughter, Kayden Pursley, was the designated helper for the day. After the song, a rendition of the ABCs in sign language, an audience participation number — the funky chicken — and lots and lots of giggles, Kayden said she was just happy to see her grandparents in school.
First-grader January Jackson said her grandma was fun because "we play the 'claw' game she made up and she tickles me."
But January made no bones about what made the annual Langston Hughes special event so very special. When asked her favorite part of the day, she said: "The lemonade and cookies."
Copyright 2018 The Lawrence Journal-World. All rights reserved. This material may not be published, broadcast, rewritten or redistributed. We strive to uphold our values for every story published.