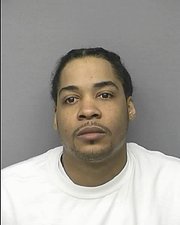 A Douglas County Jail inmate was indicted Thursday in U.S. District Court for failing to register as a sex offender.
The indictment alleges that James C. Benimon II failed to register as a sex offender after being released from a Kansas prison in June 2011. Benimon had served nearly 10 years in prison for a Wyandotte County conviction for aggravated indecent solicitation of a child under the age of 14. Jim Cross, a spokesman for the U.S. District Attorney's Office in the District of Kansas, said Benimon failed to register as a sex offender when he moved to North Dakota following his release.
Benimon was arrested in Douglas County in August on two drug crime charges.
Benimon faces up to 10 years in prison and a $250,000 fine if convicted of the failing to register offense.
Copyright 2018 The Lawrence Journal-World. All rights reserved. This material may not be published, broadcast, rewritten or redistributed. We strive to uphold our values for every story published.