After a drawn-out, sweltering afternoon at Lawrence High's quadrangular, Free State's girls tennis team had to head home winless in its three duals.
However, the Firebirds' top two singles players, junior Alexis Czapinski and sophomore Megan McReynolds, kept FSHS from losing a dual, too.
A tie, a draw, a split — however you want to describe it — Free State matched up equally with each of its three opponents Tuesday. The Firebirds tied Lawrence, Olathe South and Shawnee Mission South in each dual, via wins in all of their singles matches and losses in all of their doubles matches.
That didn't make the afternoon a negative experience for FSHS coach Oather Strawderman, though.
"Even the matches that we did lose, those teams were strong in doubles," he said.
Untouchable in each of her No. 1 singles matches, Czapinski began the quad with an 8-0 victory over the Lions' Whitney Simons, then posted the exact same score in her next two wins against O-South's Navya Prabhushankar and Shawnee Mission South's Tegan Jarchow.
The Free State junior, who gulped down nearly six liters of water during her breaks to stay hydrated, downplayed her lopsided wins.
"You can look at the score and, 8-0, whatever. It's not as easy as it looks, and it's tough to stay focused with the heat," Czapinski said.
McReynolds, a FSHS sophomore who played doubles last season, beat Lawrence's Kendall Pritchard, 8-4, for the first of her three victories.
Even though she is fairly new to high school singles, Strawderman said McReynolds could help FSHS this year.
"She's shown that she can really make a ground stroke, which is really important in singles," the coach said. "Working on the serve just a little bit will make her really strong."
Lawrence nearly matched its draw-happy rival at the quad with ties against Free State and SMS before it finished up with a loss to O-South.
The Lions' doubles teams of Abby Gillam and Zoe Schneider (No. 1) and Lily Abromeit and Brooke Braman (No. 2) assured LHS of a stalemate in its dual against the Firebirds. Gillam-Schneider won, 8-3, versus Caitlin Dodd and Emily Sadosky, and Abromeit-Braman beat Taylor Hawkins and Alyssa Raye, 8-3.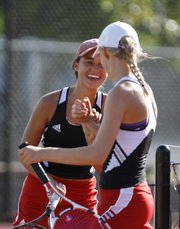 A senior, Abromeit said she has been playing against the girls from FSHS for years, so those matches seem to take on greater importance.
"We know them, and we want to be able to tell people that we beat Free State," she said
Lawrence tied SMS thanks to an 8-1 No. 2 singles win by Natasha Hurt and a tie-break victory in No. 2 doubles, 8-7 (7-5) courtesy of Carly Davis and Haley Ryan.
Simons lost to O-South's Taylor Stout, 8-5, in No. 1 singles, and the Falcons won the rest of the matches against LHS to sweep.
Though the Lions didn't notch a win in their three duals, coach Chris Marshall said his team produced lots of quality points.
"It was a good day, it just didn't end quite the way we wanted it to," Marshall said.
The coach thought Lawrence wore down in the afternoon heat, but hoped his team would learn from its 0-1-2 afternoon.
"The good teams are the teams that are able to overcome adversity and deal with the problems," Marshall said.
Copyright 2018 The Lawrence Journal-World. All rights reserved. This material may not be published, broadcast, rewritten or redistributed. We strive to uphold our values for every story published.