Some lawyers give the profession a bad rap. Then there are Carlos Hernandez and Zach Roberson.
Hernandez and Roberson graduated from Kansas University School of Law. It's where they met and became friends. But unlike some with dreams of finding a powerful firm and making partner at 35, Hernandez and Roberson have a different plan.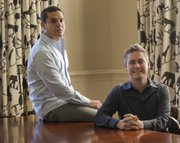 They are opening a bilingual law firm in Olathe.
"It's scary, but after all the research we have done, we feel comfortable," Hernandez said. "There is a need."
"We decided people here needed legal assistance," Roberson said. "Some of these people are an invisible segment of the population because they are illegal, and they are afraid to really go anywhere."
They both view the decision as service-based. The two estimate there are fewer than 20 bilingual attorneys in Kansas City, and the number of Spanish speakers only continues to grow. Hernandez said this imbalance creates backups and makes life difficult for those not proficient in English.
"I would go to a restaurant and just talk to the waiters and servers, and I would be like, 'So I am thinking of doing this, do you think there would be a need?'" Hernandez said. "I remember back in January there was this server who was like, 'yeah, it took me two months to talk to an immigration lawyer.'"
They both want to fix this problem by opening a law firm in Olathe to help with immigration cases as well as simple acts such as getting businesses incorporated. They said Olathe is the best location with the highest likelihood of population growth.
Merging of skills
They share a common goal but took very different paths to come to this point. This is because Hernandez and Roberson are two very different people. Roberson, 26, who graduated from Texas Tech, came from a suburban Dallas family and grew up speaking English. Hernandez, 27, graduated from the University of Texas-El Paso. He grew up in El Paso and lived in Mexico for 10 years before returning to the United States. His first language was Spanish. He has helped translate for his Spanish-speaking parents for most of his life.
"I still need to translate, but it is not as much as back in the day," he said.
Hernandez said he saw firsthand the difficulties people who don't speak English face. He also had an experience of how difficult the legal system could be. It happened after he was shot in 2004.
A stray bullet hit Hernandez in the right arm while he was watching horse races in Sunland Park, N.M. Hernandez said a man had been shooting at the racetrack all day and claimed track employees knew this fact.
Hernandez ended up in the hospital. He tried talking to police about what happened but got what he calls "the runaround."
"It's really complicated when you don't have any connections to talk to someone," he said. "When that happened, I thought, 'you know what I think? I can make a change if I go into that.'"
So Hernandez determined he would go into law to help people deal with such situations.
Roberson said his decision to enter law and start the firm came from his need to help people.
"I got into law because I do want to help people, and I probably think this is the best way at this point in my life that I can do that."
But before Roberson can help people, he has a bit of work to do. At the time he and Hernandez and a friend, David Smith, hatched their plan, about seven months ago, Roberson knew little or no Spanish.
"I have hit it really hard," he said. "I feel like I am learning it."
Making preparations
Roberson has been doing a lot of studying lately. He and Hernandez have to take the Kansas Bar Exam to get their law licenses. On top of this studying is the constant preparation to get their business off the ground. The two say they spend much of their time meeting and networking with lawyers and law professors. These people give them tips, contacts and promise to send business their way. One lawyer gave a library of law books to the two. Another sold them a cheap desk. In this manner the duo are piecing together a practice. They have yet to select a site in Olathe but are following the tip they hear over and over from Kansas City professionals: "Keep your overhead low."
They will also work to gain extra experience before they open their practice. Both are working as interns over the summer for a Catholic diocese for immigrants in El Paso. There, they planned to practice immigration law and put their bilingual skills to use.
"We were like, 'hey, you don't have to pay us; just teach us,'" Hernandez said.
Afterward they will return and try to start their firm. Hernandez and Roberson said they have enough money saved to float business expenses for two years. They will also receive help from their parents and an inheritance that Roberson has received. The two hope that in two years their business will have taken off.
"It's a service thing first," Roberson said. "The money will come later. We really just want to be problem-solvers within the community."
Copyright 2018 The Lawrence Journal-World. All rights reserved. This material may not be published, broadcast, rewritten or redistributed. We strive to uphold our values for every story published.