Photo Gallery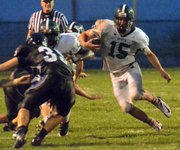 FSHS football vs. Olathe Northwest
Box score
FS ONW
First downs 6 7
Rushes-yards 34-219 53-135
Passing yards 9 32
Total Offense 228 167
Return Yards 10 64
Fumbles-lost 3-0 10-2
Penalties-yards 3-20 3-30
Score by quarters
Free State 17 13 7 0 — 37
Olathe Northwest 0 0 0 0 — 0
Individual Statistics
Rushing
FSHS: Kyle McFarland 11-72, TJ Cobbs 6-79, Joe Dineen 9-46, Demarko Bobo 7-23, Stan Skwarlo 1-minus-1.
ONW: Alex Pruss 19-88, Adam Harter 19-78, Cody Sestrich 5-0, Manny Psihountas 1-minus-3, Nate LaVoie 1-minus-8, Holdyn Halperin 8-minus-20.
Passing
FSHS: McFarland 1-3-9.
ONW: Halperin 4-8-32.
Receiving
FSHS: Tye Hughes 1-9.
ONW: Nathan Power 1-10, Pruss 2-17, Logan Wohlford 1-5.
HOW THEY SCORED
First Quarter
9:03 — Antonio Schnoneich 22 field goal. (FSHS 3, ONW 0)
6:02 — Joe Dineen 20 run. Schnoneich kick. (FSHS 10, ONW 0)
0:05 — Dineen 6 run. Schnoneich kick. (FSHS 17, ONW 0)
Second Quarter
4:17 — Kyle McFarland 24 run. McFarland run failed. (FSHS 23, ONW 0)
1:27 — McFarland 35 run. Schnoneich kick. (FSHS 30, ONW 0)
Third Quarter
5:05 — TJ Cobbs 28 run. Schnoneich kick. (FSHS 37, ONW 0)
Olathe — After Friday night's season opener, Free State High's football team might be inspired to plead with meteorologists for a rainy forecast every week.
A steady downpour at College Boulevard Activity Center kept both the Firebirds and Olathe Northwest drenched, but the Ravens were the only ones who looked troubled by the elements.
Free State didn't turn the ball over, while ONW fumbled snaps on a regular basis, and the Firebirds swamped their foes, 37-0.
Northwest fumbled 10 times in the loss, turning it over twice — once each to FSHS defensive linemen Cody Stanclift and Fred Wyatt.
The Firebirds' big men forced the Ravens into a long, disastrous night from the game's opening possession, when Wyatt sacked quarterback Holdyn Halperin on second down, and Stanclift recovered a fumble on the following play to put Free State (1-0) on the Ravens' four-yard line.
"We adapted better than they did," Stanclift said.
The visitors settled for a 22-yard Antonio Schnoneich field goal on their first possession, on a night Free State seemed to have the elixir for ball insecurity.
Riding the strength of consecutive three-and-out possessions by their defense, the Firebirds capped each of their next two drives with Joe Dineen touchdown runs, and the Ravens trailed 17-0 before the first-quarter clock ran out.
"That's our offense," Stanclift said. "We attack quick, and we get some big plays."
Dineen's scoring runs of 20 and six yards were just the beginning. Senior quarterback Kyle McFarland first scored from 24 out on an option keeper and then broke a 35-yard score with a cut left at the line of scrimmage and a precise juke to his right at the five-yard line. Both runs came in the second quarter, leading to a 30-0 halftime advantage.
Dineen, who lined up at running back, receiver and quarterback at various points, credited FSHS offensive linemen Wyatt, Stanclift, Riley Buller, Reid Buckingham and Derick Davis.
"We wouldn't have scored without them," Dineen said. "No doubt."
Firebirds coach Bob Lisher, meanwhile, saw the whole field on his team's scoring plays, including a 28-yard rush by senior back TJ Cobbs following a well-timed pitch from Dineen in the third quarter.
"Our O-line did a good job of getting us to the next level," Lisher said, "but our wide receivers did a heck of a job blocking down field."
While Lisher left the sloppy CBAC field pleased with his team's execution on both sides of the ball, he praised the defense for recovering on a few lengthy ONW runs. Tye Hughes, McFarland and Khadre Lane each made a touchdown-saving tackle in the victory.
"The effort's great," Lisher said. "It gives us another chance to see them snap the ball and see if we can keep them out of the end zone."
While the Ravens, who also had a pass picked off by Stan Skwarlo, couldn't get anything to go their way, Stanclift couldn't think of many things that went wrong for FSHS.
"The worst was just coming out in the second half and getting wet again," he said.
Next week, whatever the weather, Free State will play at Shawnee Mission West.
Copyright 2018 The Lawrence Journal-World. All rights reserved. This material may not be published, broadcast, rewritten or redistributed. We strive to uphold our values for every story published.