Photo Gallery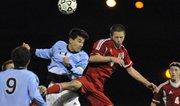 LHS soccer vs. SM East in 6A state quarterfinals
Overland Park — Lawrence High soccer players Justin Riley and Parker Davies lay on the Shawnee Mission District Soccer Complex field Tuesday night, staring up into the dark night, each with his hands on his face. A few yards away, teammate Conner Murphy squatted and stared at the ground.
Some losses are harder to digest than others.
The Lions, in disbelief seconds after their season ended, needed a few moments to contemplate their 1-0 setback against Shawnee Mission East in the Class 6A state quarterfinals.
To lose by the slimmest of margins on that stage, with a trip to state on the line, is what left coach Mike Murphy's entire LHS team in tears.
"It hurts," Mike Murphy said. "These guys have worked so hard for this. You just feel for them so much for all that they've put in, going out and battling as hard as they did."
For all of the Lancers' speed and skill and precision, the Lions (12-6-1) battled SME (16-3) throughout the game, even after senior SM East midfielder Bryce McClanahan gave his team a 1-0 lead just 14 minutes into the quarterfinal.
Though SME outshot Lawrence, 18-5, Lions senior captain Johannes Reiber said his team put forth a superior effort than it had in a 6-1 loss at SME in the regular season. In part, that's why Lawrence walked off the field heartbroken.
"It's especially hard to lose when you're so close in a game," Reiber said, "because you know at any moment you could be right there tied. It's more emotional when it's a 1-0 loss."
Reiber and fellow senior captain Riley produced the team's only two first-half shots, and the offensive drought continued in the second half. In the 44th minute, Riley sent a pass through the SME defense to Reiber on the run, but Reiber's shot from the right side was saved by Lancers goalkeeper GJ Melia. About 10 minutes later, Riley drew a foul just outside the box, and though Reiber tried quickly to score on a free kick, again the Lions came up with nothing. Then, in the 65th minute, after Lawrence's offense drew Melia out of position, Ian Gabel tried to make the Lancers pay but shot the ball wide of an empty net.
Coach Murphy said the Lancers' talent and organization limited Lawrence's offensive options.
"When they give up an opportunity, they're not gonna let it be an easy one," he said.
The Lions never would have been close without senior keeper Jeff Mekus' nine saves — one of which came on a penalty kick in the 32nd minute. East's Tyler Rathbun fired the penalty attempt to the right of Mekus, who dove to get his hands on the shot just in time to stop it.
Said Reiber: "Jeff was just keeping us in the game. They could've had it to about 4-0, and Jeff kept us alive."
Defenders Connor Henrichs, Michael Latham, Davies and Bray Kelley kept LHS in the hunt, too, by turning away SME attacks.
Riley said the game reached a point where the Lions felt as though they had the Lancers on their heels.
"We played real well, and I'd rather go out like that than anything else," Riley said after composing himself. "That was a great team, and we played real well against them. We have nothing to be ashamed of."
Clearly difficult to ponder in the minutes after the season ended, Riley said Lawrence's back-to-back state quarterfinal appearances meant a lot to the program.
"It set a foundation for what Lawrence High should be doing," he said, "and showed the Kansas City schools how soccer should be done here at Lawrence High."
Copyright 2018 The Lawrence Journal-World. All rights reserved. This material may not be published, broadcast, rewritten or redistributed. We strive to uphold our values for every story published.