Photo Gallery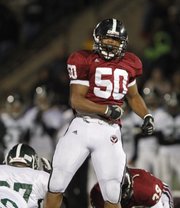 Lawrence High v. Free State football
Images from Friday night's City Showdown.
The Lawrence High football defense opened the City Showdown playing like a team that was sick and tired of reading all about the dominance of its cross-town rival's defense.
But after four quarters had been played and the final scoreboard read Free State 28, Lawrence 14, there was no conclusion anyone could draw other than to say the winning team's defense was the difference.
Both teams have deep senior classes, but it was the defensive efforts of four Free State juniors that played such a huge role in a victory that included a touchdown reception from junior tight end Zach Bickling.
It's called "get-off." It pertains to a defensive lineman's ability to get off the line of scrimmage quickly, and it's a quality an athlete either has or doesn't. Defensive end Fred Wyatt, who doubles as the team's left tackle, has it. He consistently used it to gain an advantage on his blocker and had a big night disrupting the Lions' plans on pass plays and runs.
Linebacker Keith Loneker, who doubles as a receiver, repeatedly got into the LHS backfield and once deflected a pass that senior teammate Cody Stanclift caught and returned for a touchdown.
Joe Dineen, also a running back, had his typical hard-hitting night from his safety position.
But nobody had his fingerprints all over this victory for Free State (8-1) more than linebacker/wide receiver Blake Winslow.
He had three sacks, including a late sack-fumble when LHS threatened to cut its deficit to one touchdown, and had two receptions for 67 yards.
"This was the most amazing feeling I've ever had in a game," Winslow said. "This was awesome."
One of Winslow's receptions went for 42 yards and came on a play that started with an errant snap that quarterback Kyle McFarland dribbled off the turf. McFarland finally got a handle on it, nearly got sacked, sprinted right and found Winslow.
"Kyle is one of the best players I've ever seen in person make something out of a broken play, and I just wanted to be able to make a play on that catch because I messed up on that two-point conversion and let Brad (Strauss) get outside on that two-point conversion," Winslow said. "So it felt good to come back and make a big play to set us up for a touchdown."
The front eight on Free State's 3-5-3 defense worked in concert to minimize the damage Strauss did to the Firebirds.
"We started the season off slow with the front eight and were kind of letting teams run all over us," Winslow said. "After we lost to Olathe South and they got all those rushing yards, we made it our No. 1 priority to not let teams rush on us like that, and we've been playing lights out since then."
The players couldn't help but notice one spectator under the lights who was sitting in a chair behind the south end zone: Kansas University football coach Charlie Weis.
"I glanced over there and saw him," said Wyatt, who received a scholarship offer from Northwestern this past summer. "I'm glad I had a pretty good game, I guess, so he could see that."
KU's defensive-line coach and Fred's father, Buddy Wyatt, watched with pride.
Nobody's thinking about next year at the moment, but with returning players Loneker, Stan Skwarlo and Winslow at linebacker, Wyatt up front and Dineen in the secondary, the days of Free State being known best for having an explosive offense are on hold as a dominant defense shapes the program's identity, one punishing hit at a time.
Copyright 2018 The Lawrence Journal-World. All rights reserved. This material may not be published, broadcast, rewritten or redistributed. We strive to uphold our values for every story published.