Photo Gallery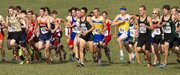 Class 6A state cross country
The respect Lawrence High freshman cross country runner Claire Sanner has for senior teammate Grace Morgan had the young runner inwardly battling her own competitive nature Saturday at the Class 6A state championship.
Morgan, a regional champion, led the Lions all season along. But the senior felt ill on the morning of the season's biggest race and couldn't push herself like normal at Rim Rock Farm. More than halfway through the 4K course, Sanner surpassed her ailing teammate and went on to finish 17th in 15:38.1, earning a state medal.
The freshman had never finished a race ahead of her mentor Morgan (27th, 16:00.3).
"At first I didn't want to pass her because she's the captain. She's my friend," Sanner said. "She told me to go on, and I knew she wasn't feeling her best, so I just gave her encouragement and told her to tough it out."
Obviously, Morgan would have preferred to finish higher, but as a team leader she wanted Sanner to do well, too.
"I was really excited when she passed me," Morgan said, "because I'd been trying to tell her to just keep going."
A little less than two weeks ago, at the Sunflower League championships, it took Sanner about 56 seconds longer to complete the Rim Rock Farm course. She said after the state meet that Saturday's 40-degree weather helped her cause.
"I don't get tired as easily," she said. "I don't know. It feels better."
Free State junior Bailey Sullivan, who captured the final available state medal by finishing 20th in 15:42.8, agreed. Compared to league, her state time improved by 1:15.
"I'd take it over hot any day," Sullivan said of the cold. "My legs were kind of numb for the first half of it, but it felt better than it would have on a hot day, and the ground was nice and hard, too."
Sullivan said her goal at state had been to keep up with Sanner, which she managed to do, and she was surprised to finish ahead of the ailing Morgan.
"I felt really sad for her, just because she's been so amazing," Sullivan said about the LHS senior. "She definitely deserved to go higher."
Disappointed in her finish, Morgan said she began feeling queasy when she awoke Saturday morning.
"I don't know if it was nerves. It really wasn't my best race today," she said after her high school finale. "I just kind of tried to battle through it."
FSHS boys 10th
Only one city cross country program had its entire team running at the 6A state championships, and although the Free State boys finished 10th of 12 teams, the Firebirds felt good about how much they improved this season.
Sophomore Ryan Liston, the top city finisher at 44th place (17:03.6) in the 5K, said a couple of months back FSHS had a "we'll see what happens" approach in regards to the postseason.
"We came into the season as a young team, and we were thinking we probably weren't going to get to state as a team," Liston admitted, "because we had so many new people to varsity."
But the Firebirds improved throughout the fall, and Liston said they felt like they had to get to state for the team's seniors, Trail Spears (50th), Fletcher Koch (63rd) and John Corbett (76th). The gains made by sophomore Cole Stallard (71st), freshman Ethan Donley (77th) and sophomore Thomas Becker (91st), Liston added, helped the team reach its state goal.
The state meet was the first of Spears' career. He ran three seasons for Junction City before joining FSHS as a senior. Spears marveled at the amount of high-level runners competing.
"I wish somebody would've given me a better head's up," he joked.
Shawnee Mission Northwest won the 6A team title.
Fischer banged up
A bizarre week ended Saturday for Lawrence High senior Gavin Fischer, the only Lion running in the 6A boys race.
On Wednesday night, while walking home from a friend's house, Fischer said a car struck him in a hit-and-run accident. His right hamstring took the brunt of the hit, which kept Fischer (also a forward for LHS soccer) out of Lawrence's Thursday night regional championship game.
"It's pretty difficult, just mentally trying to stay as ready as possible," Fischer said of the last few days. "It was something unexpected that really came out of the blue on a pretty important week — your state final and what could potentially be your last soccer game."
Personally, missing the state cross country meet didn't seem like an option for the senior. Fischer did his best to take care of the freak injury, with rest, ice and medication for the pain. All of that allowed him to give it a shot, and he finished 81st (17:36.1).
"I struggled with the hills and all," Fischer said, "but there was a lot of good competition, and I feel like I finished my year off pretty well."
Fischer expects to return to soccer practice and be able to play Tuesday in the Lions' state quarterfinal game against Shawnee Mission East.
Copyright 2017 The Lawrence Journal-World. All rights reserved. This material may not be published, broadcast, rewritten or redistributed. We strive to uphold our values for every story published.