Ticket information
Pre-game ticket sales for tonight's city showdown football game — kickoff at 7 at Lawrence High — will continue to be sold today at both the LHS and Free State finance offices.
Tickets will be available from 8 a.m. to 4 p.m. at both schools.
Sales will resume at the LHS ticket window at 5 p.m., when the stadium opens to the public.
Adult tickets cost $7 and students from kindergarten to 12th grade will be charged $5.
LHS has placed additional bleachers in the north end zone for the rivalry game between the Lions (7-1) and Firebirds (7-1), which will decide the Class 6A District 1 championship.
Back in the day, before they became quarterbacks for two of the top football teams in the state, Lawrence High senior Brad Strauss and Free State senior Kyle McFarland — then middle-schoolers — helped the Kansas Rebels baseball team win a state championship in 2009.
Now two of the most recognizable players in tonight's city showdown — kickoff at 7 at LHS — back then, as seventh- and eighth-graders, it was hard to tell Strauss and McFarland apart, especially before McFarland hit a growth spurt. Strauss led off for the Rebels, McFarland batted second and they both manned center field. The way they walked up to the plate, their batting stances, their speed out of the batter's box — all alike. They even wore their baseball pants and socks the same way. It got to a point where some friends and family members — even the boys' mothers, Lisa Strauss and Leslie McFarland — would occasionally confuse one player for the other when they were on the field.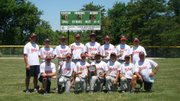 If someone saw Strauss (6-foot-1, 180 pounds) and McFarland (6-3, 185) walking down the street today, distinguishing the two would be easier — "He kept growing," Strauss said. "Unfortunately I didn't."
With Strauss wearing red and black for LHS (7-1 overall, 2-0 district) and McFarland in white and green for FSHS (7-1, 2-0) tonight, the two will be even more distinctly separated as they help their teams chase a District 1 championship and a first-round home game in the playoffs. Still, it's hard to shake the comparisons.
Said Free State coach Bob Lisher: "They're both very good defensive backs and very good quarterbacks. They make things happen for both programs."
Defensively, McFarland plays cornerback and Strauss lines up at safety. On special teams, Strauss returns punts, but that's about where the differences end. On the rare occasions when it's necessary for the Lions (398.6 yards a game, first in Sunflower League total offense) to concede a possession, Strauss punts. Last week at Leavenworth, McFarland did the same for FSHS.
Offensively, both quarterbacks lead their high-powered attacks. McFarland gets help in the backfield from running backs TJ Cobbs, Demarko Bobo and Joe Dineen, and can throw to receivers Tye Hughes, Chris Heller, Sam Hearnen, Blake Winslow and tight end Zach Bickling. Strauss has running backs Tyrone Jenkins and Jordan Brown, as well as receivers Erick Mayo, Drake Hofer, Will Thompson and Josh Seybert at his disposal.
All those weapons have helped Strauss rack up 2,232 yards of total offense, first in the Sunflower League, while McFarland is third, with 1,642 yards. Their abilities to shred defenses by ground or air might be their most common characteristic.
Said LHS coach Dirk Wedd: "It's pretty unique for a rivalry to have two kids that are so similar."
McFarland and Strauss used to be close friends when they played baseball together. Now they stay in touch occasionally with texts, and sometimes bump into each other around town. Growing apart hasn't kept them from being thoroughly aware of just how dangerous the other is as a football player.
As a corner, McFarland can't hide his concern about Strauss.
"We've played QBs that could throw," McFarland said, "but he's a lot different because he can run. If we cover up all the receivers but we let him outside or we miss a tackle, he's gonna make a play."
Strauss (1,588 passing yards, 18 touchdowns, 644 rushing yards, 13 touchdowns) said the same about McFarland (1,080 passing yards, 10 touchdowns, 562 rushing yards, five touchdowns).
The unique thing about this showdown is that neither quarterback will be on the sideline when the other is on the field. Wedd called the pair throwback players, like those from "the good old days, when kids used to play both ways."
Added Strauss: "It's a true head-to-head match-up. It'll be fun."
The team whose defense creates the most turnovers, McFarland predicted, should have the advantage.
"I'm sure both of us are gonna want to take away a ball that's thrown," McFarland said.
When the Lions examined video of Free State's defense (233.5 yards allowed, first in league), the things that stood out to Strauss were the Firebirds' ability to disguise coverages and McFarland's athleticism, which allows him to cover anybody.
"There's not a lot of corners, especially in high school, that are that size," Strauss said.
Likewise, McFarland felt wary of the Lions' safety.
"He'll come up to the line and make a hit on a run," McFarland said of Strauss, "but he's also smart and he's fast, so if you're a foot off with a throw, he can pick it off and take it back (for a score). You just try to keep it away from him."
Oddly enough, both seniors are looking for some redemption against their city rival in tonight's regular-season finale. McFarland and the Firebirds lost to LHS, 20-0, last year, when Strauss was out with an injury. The last time Strauss faced FSHS, as a sophomore, the Firebirds won, 42-20.
The one-time teammates, Lisher said, will each have plenty of chances to determine tonight's outcome.
"They're both gonna be a big part of the game, offensively and defensively," Lisher said. "Hopefully our guy can make some plays, because I'm sure their guy is gonna make some plays. It'll be an interesting battle."
Copyright 2018 The Lawrence Journal-World. All rights reserved. This material may not be published, broadcast, rewritten or redistributed. We strive to uphold our values for every story published.