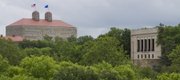 Subscribe to the email edition of Heard on the Hill and we'll deliver you the latest KU news and notes every weekday at noon.
Your daily dose of news, notes and links from around Kansas University.
• A Wednesday report from the University Daily Kansan includes two major pieces of news:
1) KU has a competitive Waterski Club.
2) It is ranked eighth in the country.
The club just wrapped up "its best season in years," the Kansan reported. It qualified for the venerable National Collegiate Waterskiing Association's Division 1 national competition for the first time ever.
I could go on, but I'll let you read that Kansan story if you'd like to know more, such as what the three events are in competitive collegiate waterskiing. Just a nice reminder of the many weird and wonderful things KU students are up to.
• The New York Times on Thursday published a pretty substantial obituary article on famed KU researcher Betty Hart, who died late last month.
It includes the news that Hart died of lung cancer, according to a colleague.
It also quotes some other colleagues and experts who describe how Hart's research on the differences in the early-childhood experiences for children from poor and more well-off families has shaped the world and continues to have influence today.
One neat little fact: Her given first name was actually "Bettie," but she preferred the version with a "y."
• KU on Thursday announced the 10 students named finalists for the Excellence in Community, Education and Leadership Award (or Ex.C.E.L., in an outstanding feat of acronym-ery).
The award goes to one male and one female student at halftime of Saturday's homecoming football game, and it honors leadership, communication skills, involvement and academic achievement. The winners get a $500 annual scholarship, and a spot for their name on a plaque in the Kansas Union.
Considering all that, I'd say the finalists each deserve a mention here on our digital pages. Here they are:
— Megan Watson of Overland Park.
— Zack McQuiston of Shawnee.
— Sam Schroeder of Independence.
— Bryan Do of Wichita.
— Matt Moore, also of Wichita.
— Alexandra "Nicki" Rose of Topeka.
— Nell Neary of Omaha, Neb.
— Kathryn Hoven of Chester, N.J.
— Brandon Rogers of Plano, Texas.
— Shannon Collins of Fairfax Station, Va.
A hearty Heard on the Hill tip of the cap is offered in the direction of each of the finalists.
• Become a finalist for the Heard on the Hill T.I.P.St.E.R. (Turning In Pertinent Stuff Eagerly and Regularly) Award by sending those tips to merickson@ljworld.com.
Copyright 2018 The Lawrence Journal-World. All rights reserved. This material may not be published, broadcast, rewritten or redistributed. We strive to uphold our values for every story published.