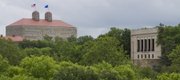 Subscribe to the email edition of Heard on the Hill and we'll deliver you the latest KU news and notes every weekday at noon.
Your daily dose of news, notes and links from around Kansas University.
• KU on Friday released a statement mourning the death of retired associate research professor emeritus Betty Hart, who worked at the university's Life Span Institute.
Hart released some groundbreaking research in 1995 about how the number of words heard by children at a very young age can have a big effect on the speech skills they develop. One troubling aspect of the study was that children who grow up in poorer households tend not to hear nearly as many words during their developmental years as those from more well-off homes.
NPR reported just last year that her study was still influencing efforts by organizations to help close that wealth-related language gap by training low-income parents on communicating with their young kids.
Along with collaborator Todd Risley, she released a book on their research called "Meaningful Differences in the Everyday Experience of Young American Children." Much of that research was conducted at the Juniper Garden's Children's Project in Kansas City, Kan.
Hart was 85, and she died in a hospice facility in Tucson, Ariz.
The KU release included statements from Chancellor Bernadette Gray-Little as well as John Colombo, the director of the Life Span Institute.
"Betty Hart's ground-breaking research changed the lives of countless children," Gray-Little said.
Colombo added: "Betty Hart's work contributed enormously to our understanding of the impact of the environment on the development of language in children and to the development of strategies for promoting communicative development in both typically developing children and children with disabilities."
He also said that up to the night before her death, Hart was working with data for use in another book.
• Journal-World reporter Shaun Hittle, who sits just over a cubicle wall from Heard on the Hill Headquarters, summed up KU's annual federally mandated crime report Friday.
His report concentrates on the portions of the document relating to crime. But the report also contains numbers on fire-related incidents in student housing facilities and related damage, of which there's really been very little during the past three years.
In all of KU's student housing facilities in 2011, only one fire-related incident caused any damage at all — and that was a vehicle battery that caught fire outside of Battenfeld Scholarship Hall, causing $700 in damage. All 19 other incidents reported were related to cooking, most of them citing burned food.
In 2010, total damages from fires added up to $876 (including some burned bulletin-board paper in Oliver Hall that resulted in $6 in damage). In 2009, the total was only $90.
To take a look at the crime/fire report for yourself, go to ku.edu/safety.
• A quick addendum to Friday's story on KU Medical Center microbiologist Joe Lutkenhaus, who last week was announced as a winner of Columbia University's Horwitz Prize, considered a possible precursor to the Nobel Prize.
One comment from Lutkenhaus that did not make it into the story: He wanted to make sure to thank all the graduate students and postdoctoral fellows who've helped him with his research over the years.
"I couldn't have done it without them," Lutkenhaus said.
So, current and former graduate students and fellows who've worked with Lutkenhaus: Consider yourselves thanked.
• And much like prestigious prize-winning research couldn't be done without those folks, neither could the daily flow of KU-related cybergoodness you find in this digital space each day continue without all you Heard on the Hill tipsters out there with your boots on the ground. Take your spot alongside these honorable folks by sending your tips to merickson@ljworld.com.
Copyright 2018 The Lawrence Journal-World. All rights reserved. This material may not be published, broadcast, rewritten or redistributed. We strive to uphold our values for every story published.