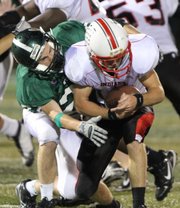 Get rid of his football pads and helmet, and Free State senior Corban Schmidt is just another boisterous, fun-loving teenager cracking jokes and giving his friends a hard time.
Give the starting linebacker his football gear, including the mouthpiece that covers a prominent missing tooth, and he takes on another persona.
Teammates such as FSHS senior lineman Cody Stanclift consider Schmidt both a "funny dude" off the field and someone who is serious about his gridiron responsibilities. That's a combination coach Bob Lisher wants in his lead linebacker, too.
"He knows when to be light-hearted, he knows when to get after people," the coach said. "That's what you need from your seniors, is that type of leadership."
Lisher's staff trusts the 5-foot-10, 165-pound linebacker so much, in fact, that it's Schmidt's job to get the entire Firebirds defensive front in order prior to every snap.
In what Schmidt calls his "sweeping read" after getting the defensive play call, he starts with the opponent's running backs, then studies their linemen to determine what the offense is going to do and where Free State's defensive linemen and 'backers need to be to stop that from happening.
Fellow linebacker Keith Loneker, a junior, said Schmidt's pre-snap calls and checks have been crucial for playoff-bound FSHS (7-1), which leads the Sunflower League in total defense (233.5 yards a game).
"He gets it quick," Loneker said of Schmidt's reads, "so we're in the right spots before each play."
Reading the offense on the fly comes naturally for Schmidt, who is fourth in the league with 84 tackles. He said his ability improved significantly once he arrived at Free State and learned more advanced techniques under the tutelage of his coaches.
"Defense has always been my thing," Schmidt said. "I can't catch the ball on offense. I can't really run the ball. But I've always had a nose for the football. I've always known, for some reason, where the play's gonna go."
Stanclift has witnessed that from Schmidt since the two first became teammates as seventh-graders at West Middle School. Even then, Schmidt was the undersized linebacker who hit harder than anyone else on the team and always delivered the blow that pumped up everyone on the sideline. Stanclift said Schmidt's size is part of what makes him Free State's leading tackler.
"He's small," Stanclift said, "so it's easy for him to stay low and find the opening to get the running back."
Once the ball is snapped, Schmidt does whatever it takes to get to the ball and prevent the offense from doing its job.
"I'm not the biggest. I always have to read the play and be at the right spot at the right time, every time," Schmidt said. "I'm not strong enough just to blow people up. I always have to use technique."
After handling the mental side of the game, Lisher said Schmidt follows through with the physicality needed to succeed. And while no player is perfect, the coach said Schmidt makes "a heck of a lot" more tackles than he misses.
The senior linebacker knows how to make his coaches happy, and that might be why he isn't too concerned with the hype surrounding Free State's regular-season finale at Lawrence High (7-1) at 7 p.m. Friday.
"It's just another football game. Cool, it's against LHS, they're our rivals. But whatever. I don't really care," Schmidt said. "I want to get the win so maybe we can get the No. 1 ranking in the playoffs. This game does not make or break our season. This is just another game standing in our way until we get to the postseason, the playoffs."
Copyright 2018 The Lawrence Journal-World. All rights reserved. This material may not be published, broadcast, rewritten or redistributed. We strive to uphold our values for every story published.