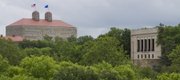 Subscribe to the email edition of Heard on the Hill and we'll deliver you the latest KU news and notes every weekday at noon.
Your daily dose of news, notes and links from around Kansas University.
• A Wichita TV station has an update on Colby Liston, the 18-year-old from Derby who lost both legs below the knee in a car accident just a week into his freshman year at KU this fall.
KSN reported Sunday on an effort in his hometown to raise money to help his family pay medical expenses. The town's recreation center had a fundraiser run for Liston, who had planned to walk on to the KU track team.
In the report (if you click on the video, you can hear more info than is available in the written version of the story), Liston says he's hoping to run in a paralympic track meet in Oklahoma in June 2013, and certainly appears to be in good spirits.
The fundraising effort is to help his family pay for his prosthetic legs, which is something he was researching when the Journal-World talked to him last month. He also said he's hoping to be back at KU by the fall 2013 semester.
If you'd like to pitch in on the fundraising effort, you can call the Derby Recreation Center at 316-788-3781.
• Another KU-related video for your pleasure: For a program earlier this month, several KU groups combined to make a video called "Arrive With 5," which is part of a campaign created by a couple of advocacy organizations.
In the clip, a bunch of KU students interviewed all over campus provide reasons why they're going to get as many people as they can out to vote on Election Day next month, by bringing five people along with them to the polls. Reasons include because this election will be important for young people, because your friends might be lazy, or in the case of my favorite respondent, because he needs five other people to fill out his six-seated bicycle.
The Center for Community Outreach, the Emily Taylor Center for Women and Gender Equality and the Office of Multicultural Affairs pitched in on the video.
• And while we're throwing out video links, I'll go ahead and include something a tipster recommended I pass on to all of you. It's the KU women's basketball team's spoof of "Call Me Maybe," the Carly Rae Jepsen song that is of course the deepest and most fruitful YouTube spoof mine in the history of the Internet.
It was shown at Late Night in the Phog earlier this month, but you can watch it at that link if you missed it. It's especially notable because, if you watch closely, you'll see that KU Athletics Director Sheahon Zenger and even Chancellor Bernadette Gray-Little got in on it.
• Finally, an event of note on campus today: Tomas Gómez Membreño, a member of an indigenous rights organization in Honduras, is going to speak at 7 p.m. at the Ecumenical Campus Ministries building on Oread Avenue.
He's going to talk about how U.S. policies affect indigenous peoples in Honduras, and it's sponsored by the Center of Latin American Studies, the Peace and Conflict Studies Program, ECM and the group Witness for Peace.
• The next five people who send their KU news tips to merickson@ljworld.com are eligible for a free ride on a six-seated bicycle with me, as long as one of you provides the bicycle.
Copyright 2018 The Lawrence Journal-World. All rights reserved. This material may not be published, broadcast, rewritten or redistributed. We strive to uphold our values for every story published.