Photo Gallery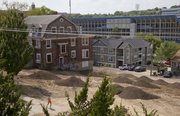 Varsity House then and now
Lawrence city commissioners are convinced the integrity of the old Varsity House has been ruined by a faulty redevelopment project, and they agreed to begin seeking a "cash payment" from local developer Thomas Fritzel as compensation.
Commissioners at their Tuesday evening meeting said they believed a previously agreed upon deal to move the 1908 home at 11th and Indiana streets to make way for a new apartment complex had not been upheld.
"I have been had in this deal," said City Commissioner Mike Amyx, who helped broker a deal that called for the old three-story house to be moved to a new site so Fritzel could build an approximately 50-unit apartment complex in the Oread neighborhood.
Commissioners and members of the public began expressing concerns earlier this month as crews began reassembling the house on the site. Commissioners and several preservationists said it appeared the house was almost entirely being built with new materials rather than with original pieces of the distinctive house that in the mid-1900s was home to the varsity starters of the Kansas University football team.
On Tuesday, commissioners said they would begin the process of trying to broker a settlement with Fritzel over what commissioners deemed was a violation of an agreed upon site plan. Mayor Bob Schumm made it clear he expected the settlement to involve a significant monetary fine, but no amount was mentioned.
It wasn't clear Tuesday whether Fritzel would agree to enter into any such settlement discussion. Fritzel did not make comments at Tuesday's meeting but previously has said he disagrees with any finding that he did not comply with the site plan for the project.
Several members of the public, though, urged commissioners to take action against Fritzel.
"He bamboozled the commission into thinking there was an amicable compromise," Lawrence historic preservation architect Stan Hernly said of Fritzel. "We have all been played as fools."
Commissioners on Tuesday, however, did learn that the city's planning staff was notified beforehand by Fritzel that he intended to cut the house into modular pieces rather than move it in one piece.
City staff members confirmed the Planning Department approved of that method, but Planning Director Scott McCullough said his department was under the assumption the house would be reassembled using federal historic standards.
Those standards include numbering the pieces of the house and then putting them back in their original places in the structure. Instead, Fritzel's crews have been using original material — mainly wall studs and floor joists — as part of the new construction of the house.
An architect for Fritzel told commissioners more original material would be used on the second and third floor of the house.
Commissioners said they would insist upon that, but they predicted nothing could be done that would restore the integrity of the Varsity House.
"I believe sanctions have to be in order here," Schumm said. "We can't send the message that when you have an agreement with the city that you can simply break it."
Copyright 2018 The Lawrence Journal-World. All rights reserved. This material may not be published, broadcast, rewritten or redistributed. We strive to uphold our values for every story published.