Photo Gallery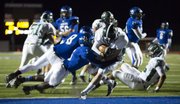 Free State vs. Leavenworth Football
Summary
FSHS LHS
First downs 13 9
Rushes-yards 40-144 46-101
Passing yards 197 40
Total offense 341 141
Return yards 66 197
Fumbles-lost 1-1 3-2
Penalties-yards 6-45 2-15
Free State 7 21 13 6 — 47
Leavenworth 0 0 0 14 — 14
Individual statistics
Rushing
FSHS: Joe Dineen 12-60 TD, Demarko Bobo 10-40 TD, Kyle McFarland 4-38, TJ Cobbs 12-15 2 TDs, Nyle Anderson 2-minus-9.
LHS: Jason Randall 22-42, Judson Cole 19-4, Landry Hodges 3-31 TD, Eli Keppler 2-24.
Passing
FSHS: McFarland 7-13-134 2 TDs, Dineen 4-6-63.
LHS: Cole 4-14-22 2 interceptions, Hodges 2-7-18 interception, Randall 0-1-0.
Receiving
FSHS: Tye Hughes 6-113 2 TDs, Blake Winslow 1-29, Chris Heller 2-20, Zach Bickling 1-19, Khadre Lane 1-16.
LHS: Keppler 3-33, Randall 1-7, Hodges 2-0.
HOW THEY SCORED
First quarter
5:37 — Tye Hughes 54 pass from Kyle McFarland. Antonio Schnoneich kick. (FSHS 7, LHS 0.)
Second quarter
11:25 — Joe Dineen 8 run. Schnoneich kick. (FSHS 14, LHS 0.)
2:22 — Demarko Bobo 1 run. Schnoneich kick. (FSHS 21, LHS 0.)
0:29 — Hughes 25 pass from McFarland. Schnoneich kick. (FSHS 28, LHS 0.)
Third quarter
6:23 — TJ Cobbs 4 run. Schnoneich kick. (FSHS 35, LHS 0.)
1:09 — Cobbs 5 run. Schnoneich kick failed. (FSHS 41, LHS 0.)
Fourth quarter
10:54 — Carson Bowen 50 interception return. Schnoneich kick failed. (FSHS 47, LHS 0.)
10:38 — Jason Randall 97 kickoff return. Judson Cole kick. (FSHS 47, LHS 7.)
7:19 — Landry Hodges 18 run. Cole kick. (FSHS 47, LHS 14.)
Leavenworth — Minutes after helping his Free State High football team clinch a playoff berth with a 47-14 victory over Leavenworth at Pioneer Stadium, Firebirds senior quarterback Kyle McFarland figured the time for celebrating had already passed.
"It's good, but we all know what's next," McFarland said, referring to Free State's upcoming regular-season finale at Lawrence High. "We all know what's coming Friday. It's gonna be crazy."
Last year, the Firebirds' narrow victories in the first two weeks of district play ended up costing them a spot in the postseason, because they lost by 20 to Lawrence in the finale. Coach Bob Lisher said his team had zero interest in sweating out the final week of district play going into the 2012 city showdown with the Lions.
"That was an emphasis with us going into district, making sure we were able to win these first two games by a minimum of 13 points so we didn't have that situation that we had last year," Lisher said.
Free State (7-1 overall, 2-0 District 1) dismantled Leavenworth (3-5, 0-2) on the same night Lawrence (7-1, 2-0) produced a similar outcome at Kansas City (Kan.) Wyandotte (5-3, 0-2), clinching the district's playoff spots for the city's two Class 6A programs.
Though the Firebirds offense stalled out on its first couple of possessions and McFarland overthrew his intended receivers four straight times in the opening two series, he recovered in a hurry after senior receiver Tye Hughes returned to the huddle and told his QB he would continue to be wide-open on deep routes.
"I was just rushing things," McFarland said. "I wasn't being smart with the ball."
Then, on third-and-11, McFarland looked Hughes' way again and connected on a bomb down the middle of the field. Hughes dragged a pair of Pioneer defenders with him across the goal line for a 54-yard touchdown to give Free State a 7-0 lead.
"After that," McFarland said, "we started clicking."
Even though touchdown runs by Joe Dineen and Demarko Bobo, as well as another McFarland-to-Hughes TD pass, gave FSHS a 28-0 lead at the half, Lisher worried the offense wasn't where it needed to be.
"We'd up front miss a block or miss a key or miss a read in the backfield," the coach said. "It's not the right time to start doing that, so we need to make sure we polish that up real quick."
Lisher held the opposite opinion of his defense, which strangled the Pioneers, forcing them to minus-12 yards of total offense in the first half. Junior linebacker Stan Skwarlo, whose fumble recovery with 8:14 to go in the third quarter was one of five takeaways for the FSHS defense on the night, said the entire unit made the blowout possible.
"Our defense really set the tone," he said.
Free State forced five Leavenworth three-and-outs in the first half. The unit also produced an interception by Dineen and a fumble recovery by Sam Hearnen. Senior defensive lineman Cody Stanclift was in on two sacks, as was Blake Winslow, and Keith Loneker produced back-to-back tackles for loss on one series — all in the first half.
Skwarlo said the Firebirds were happy to redeem themselves after a slow start. And getting Free State back to the postseason after a one-year absence certainly didn't feel too bad, either.
"We had a bitter taste in our mouth from last year and not making it to the playoffs," Skwarlo said. "That'll give us a lot of confidence going into next week."
Yes, next week. The one everyone on both sides of the Lawrence-versus-Free State rivalry have inwardly been looking forward to all season. The District 1 championship, a Sunflower League title, maybe even a No. 1 seed in the playoffs, could all be in the mix for the winner of the city showdown.
A week away from what lies ahead, Lisher already could be heard simplifying things.
"It comes down to blocking and tackling," he said, "and controlling yourself next week."
Copyright 2018 The Lawrence Journal-World. All rights reserved. This material may not be published, broadcast, rewritten or redistributed. We strive to uphold our values for every story published.