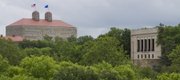 Subscribe to the email edition of Heard on the Hill and we'll deliver you the latest KU news and notes every weekday at noon.
Your daily dose of news, notes and links from around Kansas University.
• It's democracy season, and it seems everyone has elections on the brain. (Including me: I checked in with KU's debate coach and a 2009 national champion debater to ask about their thoughts on Tuesday's presidential debate, in case you missed it.)
Well, some KU student groups decided to harness that fervor and do something productive with it. They spent about three weeks registering KU students to vote out on Wescoe Beach, and they racked up just more than 700 by the end of the day Tuesday, the final day to register for the Nov. 6 general election.
The groups that pitched in were Student Senate and its Student Legislative Awareness Board, the Black Student Union, the Dole Institute of Politics Student Advisory Board and Project Vote.
Student Zach George, who heads up the SLAB, said in a release that the campaign's goal was to register 500 students, so they surpassed that by quite a bit.
Student Body President Hannah Bolton told me that the campaign was originally scheduled to end on Monday, but at the last minute the students decided to head out to the Beach for one more day.
That turned out to be quite the good decision, as they managed to register 98 more students who had waited until the last day, Bolton said.
A release from Student Senate noted that the students were registering voters through the art of "tabling. That would be standing or sitting behind a table and trying to grab the attention of passersby. I've heard the word "table" used as a verb in that way quite a bit around the KU campus — and nowhere else. I find that charming, so I encourage its continued use.
• As KU's 100th homecoming week approaches — it starts Sunday — I've been poking around trying to learn more about homecoming's history at the university.
(A reminder: If you have any treasured homecoming memories, or if you've made it a point to come back for homecoming as an alumna/alumnus, I'd love to hear from you. That email address is merickson@ljworld.com.)
One thing I've found entertaining to look over is the list of homecoming themes from over the years provided by the KU Alumni Association's website.
KU homecoming themes were born in 1956 with "Songs for Victory," and since then they've been kind of all over the place.
Some have been distinctively of their time ("Jayhawk Laugh-in" in 1968.) Some have seemingly referenced songs that were released some number of years before ("Back to the Glory Days" in 1988; "Tangled Up in Crimson and Blue" in 1998). Some have been decidedly retro ("Fabulous Forties" in 1982).
Some themes have been lengthy (1963's "To the Skies through Difficulties: Higher Education — The Road to the Future"). Some have been more utilitarian and simple (in 1964, the theme was simply "Circus").
And some have been near-repeats: 1976 was "J. Hawk for President," and in 1996 it was "Jayhawk for President." Of course, those were both presidential-election years in which KU alumnus Bob Dole was on the Republican ticket. Hmmm. (That's the third day in a row Dole has been mentioned in Heard on the Hill, if you hadn't noticed; we'll see how long we can keep that streak going.)
• This is something I'll be writing about in more detail later this week, but I thought I'd include a brief note here for those who might be especially interested: KU's Hilltop Child Development Center will celebrate its 40th anniversary with a dinner fundraiser Saturday at The W Banquet Hall, 704 Connecticut.
The center has changed quite a bit since it opened in 1972 as a result of the February Sisters movement on campus, expanding and changing locations. It's served the children of many students, faculty and staff at KU. If any of those then-children, or their parents, are planning to attend the anniversary event, I'd love to hear from you.
• If you're a member of one of those groups of people I'd love to hear from — though, really, I'd love to hear from anyone with news to share related to KU — that email address, again, is merickson@ljworld.com.
Copyright 2018 The Lawrence Journal-World. All rights reserved. This material may not be published, broadcast, rewritten or redistributed. We strive to uphold our values for every story published.