No matter where Free State High's girls cross country team goes to compete, the coaches, runners and spectators from all the other schools seem to know the Firebirds' most popular runner, Sarah Schaffer.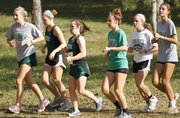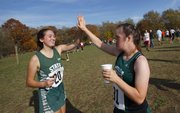 A FSHS senior with Down syndrome, Schaffer runs for the C-team, but during her races, she can always be found running the trails with a group from Free State's varsity teams — either the girls or boys, or both. It's their way of supporting Schaffer after their runs are completed.
Back when Schaffer first joined the team as a sophomore, three of her younger teammates created the trend that has grown and thrived. Now juniors, Molly McCord, Rosemary Newsome and Bailey Sullivan, a trio Schaffer affectionately refers to as "my girls," have been Schaffer's running mates for three seasons. McCord said Schaffer always receives adoration from not only her peers, but also complete strangers, as she moves along the trails.
"She's a little local celebrity," McCord said. "Ever since we ran with her our freshman year, it doesn't matter where we are. There's people from every team yelling her name. I don't know how they know it, but everybody does and everybody cheers her on."
Schaffer knows a thing or two about running, a favorite pastime in her family.
"I've been running with my dad (Van) since I was little," she said.
Her mother, Rose, also joins them on their training runs sometimes, and Sarah's older sister, Rachael, ran for Free State before graduating and joining the cross country team at Kansas University.
When Sarah first joined the Firebirds as a sophomore, Rose said FSHS coach Steve Heffernan asked the Schaffers what their goal would be for Sarah. They simply wanted her to finish each race and improve, and Rose said that is exactly what the family has witnessed over the past three seasons. What Rose never expected was the kind of support Sarah gets each time she competes. She has even seen runners from other schools join Sarah's pack on the course.
According to Newsome, Schaffer's teammates just try to provide simple motivational words or reminders to pump her arms as they trot alongside her. They're the same kind of things they would say to a varsity teammate.
"It's always been something we've done, and we love it because we help Sarah get through a race and Sarah helps us get through a race," Newsome said.
The size of Schaffer's party can fluctuate, Sullivan said, and Schaffer doesn't mind if some arrive fashionably late.
"We like to run the beginning of it as a small group," Sullivan said, "and then everyone comes and joins in toward the end of it."
Typically, seniors John Corbett and Fletcher Koch and sophomore Cole Stallard from the Free State boys team will jump in for the second half of a run.
"They're the best," Schaffer said.
Stallard said the boys enjoy cheering her on and seeing others shout out words of encouragement.
"It's so much better than running actual races," he said.
Cross country isn't the only sport Schaffer participates in at FSHS. In the spring, she runs much shorter races, the 100- and 200-meter dashes, and competes in shot put.
"Cross country's harder," she said. "I like track better."
That's not to say Schaffer isn't fond of cross country, though. Rim Rock Farm, where she ran her final high school cross country race on Monday, occupies a special place in her heart. And there is not a much better feeling than crossing the finish line of a 4K course with a group of your closest teammates.
"The kids that run with me, that's my favorite part," she said.
After her family members, teammates and everybody else who knows the popular runner offered their congratulations following her final run as a Firebird, Schaffer summed up her cross country experience perfectly.
"I like it here," she said, "and I'm gonna miss it."
Copyright 2018 The Lawrence Journal-World. All rights reserved. This material may not be published, broadcast, rewritten or redistributed. We strive to uphold our values for every story published.