Two Journal-World photographers were winners in Inland Press Association's 2012 News Picture contest.
Photographer Nick Krug won a first place and two seconds, and Mike Yoder, chief photographer, won a second and a third.
Krug won first place in the Multimedia category and second in the Picture Story category for his work on a story about Lawrence father Aaron Polson, whose wife, Aimee Ziegler, took her own life following an eight-year battle with postpartum psychosis and depression.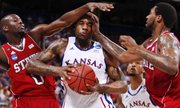 His second-place win in the Sports category was for a photo he made of Kansas University power forward Thomas Robinson during the NCAA Sweet Sixteen game against North Carolina State last March.
Yoder's second-place award in the Multimedia category was for his work with Civil War re-enactors with the 3rd Kansas, Battery B, light artillery unit, including two men from Lawrence, who participated in the Wilson's Creek 150th anniversary re-enactment on August 2011 near Springfield, Mo. William Quantrill fought with the Missouri Guard in the battle on Aug. 10, 1861, considered the second major battle of the Civil War. Two years later, Quantrill attacked Lawrence.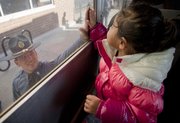 Yoder's third-place honors in the Feature category was for a photograph he made of Kansas Highway Patrol trooper saying goodbye to a young girl he had helped shop for Christmas gifts last year.
Inland Press Association, which is based in Chicago, is a nationwide not-for-profit newspaper association and foundation with more than 1,100 member newspapers.
Copyright 2018 The Lawrence Journal-World. All rights reserved. This material may not be published, broadcast, rewritten or redistributed. We strive to uphold our values for every story published.