Firefighters responded Tuesday morning to a fire at the Southpointe Park Villas apartment complex in the 2200 block of West 26th Street, one block west of Iowa Street.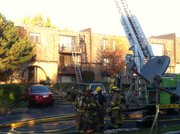 The fire was reported about 7:50 a.m., according to news release issued by Lawrence-Douglas County Fire Medical.
The fire was cleared by 8:30 and no injuries were reported.
When crews arrived, they found heavy smoke coming from the second floor balcony of a three-story wood-framed structure.
The apartment complex residents had been evacuated by the time fire crews arrived. However, two dogs were rescued from the fire.
Jane Blocher, executive director of the Douglas County chapter of the American Red Cross, said the agency is assisting six families who were affected by the fire. She said the Red Cross is providing hotel lodging for some residents, and food and clothing for all six families.
The cause of the fire is still under investigation and no damage estimates were available as of Tuesday afternoon, according to the release.
Copyright 2018 The Lawrence Journal-World. All rights reserved. This material may not be published, broadcast, rewritten or redistributed. We strive to uphold our values for every story published.