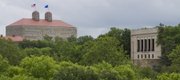 Subscribe to the email edition of Heard on the Hill and we'll deliver you the latest KU news and notes every weekday at noon.
Your daily dose of news, notes and links from around Kansas University.
• Former U.S. Sen. Arlen Specter of Pennsylvania died Sunday, and the Associated Press obituary story about him reveals an interesting tidbit: He was quite close to becoming a Jayhawk.
Specter was a Kansas native, hailing from the town of Russell. That creates quite the piece of trivia: Russell, a town with a population of about 4,500 in the 2010 Census, is the hometown of two U.S. senators — the other, of course, being Bob Dole.
According to the AP story, all of Specter's friends planned to come to KU when he graduated from high school in 1947, but he opted to instead go to the University of Pennsylvania. The reason? KU did not have a Jewish fraternity, the story says.
Indeed, the website for the KU chapter of the Jewish fraternity Alpha Epsilon Pi says it was not founded until 1949, two years later. So, had he graduated from high school two years later, or had that fraternity chapter opened two years earlier, Specter could be a KU alumnus.
That makes one wonder, "one" being me, if in that case he'd have then pursued a political career in Kansas rather than Pennsylvania — and if he and Dole would both have become senators if they lived in the same state.
• A couple of events on the KU campus this week are vying for the attention of all you film buffs out there.
First, tonight the geology department and several other offices will play host to the showing of a documentary about alternative energy sources. The movie, "Switch," will be shown at 7 p.m. in Woodruff Auditorium at the Kansas Union.
In the film, a documentarian visits energy sites from around the world and ponders the possible future transition from fossil fuels to other sources of energy. The screening is free to attend.
Your second film event is Wednesday evening, when the University Honors Program will screen the 1932 Japanese silent film "I was Born, But..."
The interesting part of this is that it will feature live narration by a Japanese Benshi, Ichiro Katakoka. According to Honors Program assistant director Anne Dotter, he's one of only five or so remaining benshi — Japanese performers who narrate silent films live as they're screened. Though it's a dying art, he actually just began performing about 10 years ago. He's also an actor and has recorded his voice for video games.
The film will be shown at 6:30 p.m. Wednesday at the Spencer Museum of Art auditorium, and afterward Katakoka will answer questions from the audience.
• This evening will also see the latest event in the KU Natural History Museum's Science on Tap series of scientific discussions taking place at Free State Brewing Co. in downtown Lawrence.
The talk will concern the expansion of the universe and the mysterious force responsible for much of it, called dark energy. Leading it will be Bharat Ratra, a professor of physics at Kansas State University. It starts at 7:30 p.m.
Jen Humphrey, a spokeswoman for the museum, shares this crack: "If anything can bring KU and K-State together, it's going to be science and beer!"
(I will point out that another thing that can bring KU and K-State together is the expansion of the state's bioscience sector, as Monday morning I saw KU Chancellor Bernadette Gray-Little and K-State President Kirk Schulz interacting quite collegially at a Kansas Bioscience Authority board meeting.)
Anyway, if you do attend the event and feel like ordering a brew, I recommend you stay in keeping with the theme of "dark" energy and ask for something dark — perhaps an Oatmeal Stout.
• One thing that can bring all of us together — at least, I hope so — is a desire to keep the stream of newsy KU tidbits flowing here at Heard on the Hill. So if you're a team player, send those tips to merickson@ljworld.com.
Copyright 2017 The Lawrence Journal-World. All rights reserved. This material may not be published, broadcast, rewritten or redistributed. We strive to uphold our values for every story published.