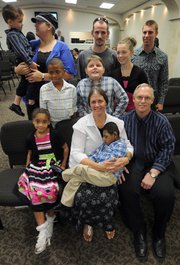 SALINA — Newly married and childless, Gary and Janice Meyer were dining at Wendy's when a family of five walked in.
"I can remember thinking, 'why would anybody want three kids?'" Janice said. In her mind, two should be the limit. "Mom gets one; Dad gets one. What's the third one do?"
Fast forward to 2012. The 57-year-olds have seen three times that many children pass through their home in the past 25 years.
Unable to conceive — or so they thought — and having repeated setbacks in their attempt to adopt, the Meyers took a different tack.
"We decided to try foster care," Janice said.
One child was followed by another, and then another, and then another.
They preferred caring for babies and young children, and their first was a 3-year-old.
"It was a very severe case," Gary said. "He was enough of a challenge and had enough special needs that, if we would have had children, he couldn't come into our home."
He cited one example of what the child's home life must have been like.
"When somebody would come to our house, you know what he showed them? It wasn't that he had a bedroom; it wasn't that he had toys," Gary said.
The biggest marvel for the youngster was in the kitchen.
"We had a refrigerator, and there was food in it," he said. "That's not uncommon."
The Meyers should know. Since that first experience, they later became foster parents to the child's 2-year-old brother and, through the years, have fostered a number of special-needs children. But unlike most foster parents whose home is a way station, the Meyers residence became a destination, which, Gary admits, is not the main goal of the foster care program.
"Reintegration is what foster care is all about, if at all possible," Gary said.
But in some cases, the parents are neither mentally or
physically able to care for the children. Their rights are either severed by court order or they relinquish their rights themselves, he said.
Adoption honor
When their first two foster children were ages 6 and 7 and adoptable, the Meyers applied.
And then the surprise.
"We found out Jan was pregnant when we were in the middle of adopting," Gary said.
Friends asked if they would drop the adoption process now that they were expecting a child of their own.
"We never even considered it," Gary said.
In all, the Meyers house has been home to 30 children, some with heart problems and autism. They've cared for blind children and children diagnosed with failure to thrive. They've had two shaken babies at one time and children suffering from reactive attachment disorder.
For their involvement as foster and adoptive parents, the Meyers recently received the Angels in Adoption Award, bestowed by 1st District Congressman Tim Huelskamp, R-Kan. One family in each congressional district can be honored with the award, which is sponsored by the Congressional Coalition on Adoption Institute. The Meyers were among recipients who last month attended an official ceremony in Washington, D.C.
'It worked out right'
Janice said she often recalls that night at Wendy's and seeing the parents with three children.
The Meyers trusted God wouldn't overburden them.
"We would get the children we were meant to have," Gary said. "Not everything has been easy or good, but it worked out right."
The Meyers admit they reversed the normal order of parenting.
"Most people have children right away," Gary said.
"By their 40s, they're free," Janice said.
"We were just starting," said Gary, who added that when the children did start coming, the couple were at a more mature and patient age.
"We'll be free when we're 80," Janice said.
"Well, we got Leon. We'll never be free," Gary said.
Leon is their newest, youngest and, they say, last child they will adopt.
He's 4 1/2 and severely handicapped, a victim of shaken baby syndrome.
He's blind, deaf, confined to a wheel chair and requires a feeding tube.
According to CAT scans and MRIs, he has nothing on his left side of his brain and less than half on the right, Gary said.
"He'll be our baby forever," he said.
Copyright 2018 The Lawrence Journal-World. All rights reserved. This material may not be published, broadcast, rewritten or redistributed. We strive to uphold our values for every story published.