Lawrence school officials envision a day in the not-too-distant future when every student will come to class connected to at least one, and possibly multiple, wireless devices.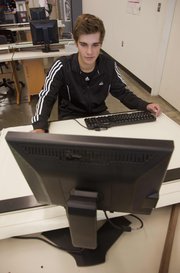 Laptops, computer tablets and smartphones already have become everyday items in many students' personal lives. But school officials anticipate those devices will soon be an integral part of daily classroom instruction — as common to students as notebook paper, three-ring binders and No. 2 pencils have been for earlier generations.
"Things have changed so rapidly, just over the last few years, with technology," said Kyle Hayden, assistant superintendent for operations and business. "The iPad didn't exist over three years ago, so it's hard to say what's going to happen three years from now. The only thing we know is that we've been seeing an increasing use and desire to have mobile technology. So we just need to have the infrastructure that's capable of handling it."
To build that infrastructure — the routers, switches, servers and other "backbone" equipment that make wireless devices function for users — the Lawrence school board plans to put a bond issue before voters in the spring. The technology upgrades would be only a small part of a larger bond package. The bulk of the package would fund building renovations throughout the district, mainly in the older elementary schools in central and East Lawrence.
The Lawrence school board received a lengthy presentation last Monday from Janet Herdman of Alexander Open Systems, an Overland Park consulting firm the district hired as part of the bond planning process to assess its technology needs and make recommendations about future design options.
Herdman spelled out a broad vision for an entirely new technology environment to support all the district's data-management needs. She talked about emphasizing "density" of wireless capacity — increasing the bandwidth available in each building to support more users with multiple devices. She also talked about migrating to new email systems, the need for additional storage space, including "cloud-based" solutions ... everything, up to and including ways that teachers could incorporate Web-based material and applications into daily classroom instruction.
That was the point where board member Randy Masten began raising questions.
Masten said he supports the idea of upgrading the district's computer infrastructure, but he has concerns about expecting teachers to use it to revolutionize their classrooms.
"The workload," Masten said during an interview afterward. "If we are providing technologies to teachers and they're not user-friendly, they're not intuitive, then a lot of times they won't be used. They'll be used by people who like technology, who are going to use technology regardless. Then you're going to have a large portion of the people for whom it becomes burdensome. They're already dealing with crowded classrooms. They're already dealing with changing curriculums. There are a lot of things in flux right now. I just want to make sure that the technology is a benefit and not a drain."
The equity issue
Education researchers have long debated the value of technology in the classroom. Although there are many subject areas such as computer science, drafting and design, and even journalism where the use of computers is already well-established, the idea of using Web-based tools for subjects such as literature and social studies — and expecting students to use digital textbooks and Web-based homework — still generates controversy.
John Richard Schrock is a biology education professor at Emporia State University who writes a blog, "Education Frontlines," that is often critical of new trends in education.
In one recent column, "Let Them Eat Digital," he warned of the disparate impact the push toward digital education could have on lower-income students who are less likely to have access to broadband Internet at home. He likened the advocates for digital education to modern-day Marie Antoinettes.
"Consider just how unfair it would be if a richer student got to take his or her books and study materials home after school but a poor student could not," Schrock wrote. "Yet this switch to electronics does exactly that. The rich kid gets the advantage of homework and help from parents 24/7 while the poor kid is restricted to gaps in school time."
Lawrence officials, however, say equity in classroom resources is one of the issues they're trying to address by upgrading physical buildings as well as technology.
"That's actually a big discussion we've had," said assistant superintendent Hayden. "It's part of our goals, not only with bond planning, but even outside of that. How do we make resources available to our community that maybe don't have those resources and don't have either the financial capability or whatever the limitation may be to get those things. One of the ways I think you do it is you make school areas where there are library media areas or other available to the public outside of the school day. I think that's one way you extend those resources to kids and their families."
As district officials grapple with how to make broadband access available to all students, they'll also have to decide how to put computer devices themselves in the hands of all students. The question boils down to a choice between having the district provide each student with a device, or adopting a policy known as "bring your own device," or "BYOD."
Having the district supply students with devices would entail ongoing costs for replacement and repairs, costs that could not be financed with long-term bonds because of the relatively short life cycle of computer devices. The BYOD option, on the other hand, could require a more sophisticated infrastructure that would be compatible with different kinds of operating systems, district officials have said.
"I think it's likely that what we'll have to do as a district is some sort of combination," said board president Vanessa Sanburn. "I think it's a more relevant question for middle and high school students. Maybe I'm just not there yet, but I can't imagine a situation where third-graders are bringing their iPads to school."
Decisions ahead
Deciding on a device policy is just one of the tasks ahead for the district's technology planning committee, a group of about a dozen teachers and administrators that will make specific recommendations about technology plans for each building before the board authorizes a bond election.
Another choice the school board will have to make soon is how large of a bond issue to request.
Under state law, school districts can carry a debt load up to 14 percent of their assessed value. To go beyond that, districts need approval from the Kansas State Board of Education. That means the Lawrence school board could ask for approximately $91 million in new bonds without going before the state board, and school board members have indicated generally that they hope to stay within that margin.
If they do, the board will not need to finalize plans or determine an exact bond amount until January 2013. Going beyond the statutory limit, however, would require finalizing plans in November so the district will have enough time to get approval from the state board.
Copyright 2018 The Lawrence Journal-World. All rights reserved. This material may not be published, broadcast, rewritten or redistributed. We strive to uphold our values for every story published.