Neither play looked as if it would end in a touchdown. Too many defenders blocked Erick Mayo's path. The pass to Drake Hofer on the left side of the end zone was too well defended.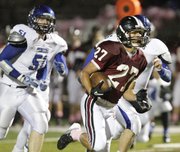 Watching seniors Hofer and Mayo connect with classmate Brad Strauss, the state's best quarterback, on so many big plays over the past couple of seasons took the shock value out of the plays but made them no less impressive.
Mayo's second gear was too fast, Hofer's leaping ability too strong and his hands too sure, to keep them from scoring a pair of huge third-quarter touchdowns that helped LHS celebrate senior night with a 46-26 victory against Leavenworth. The touchdowns turned a 22-12 score into 34-12.
Mayo caught the pass near the left sideline, and when Hofer glanced his way, he didn't like what he saw.
"I turned away and thought he was going down," Hofer said. "I looked back up, and he's in the end zone."
Mayo turned his jets on and made it happen that quickly.
"I saw everybody on the left side, so I knew I was going to have to cut back if I was going to score," Mayo said of his 33-yard touchdown. "And then I just cut back and beat the defenders to the end zone."
Said LHS coach Dirk Wedd: "If it was two-hand touch they wouldn't have had him. He's very elusive. He's got wiggles. Will Thompson's the same way. You put those guys along with Brad in space, it's hard to bring them down."
Mayo showed the same skills on a 27-yard return after picking up a kicked football that was bouncing end over end on the turf, the sort of action that usually makes returners step out of the way. Mayo turned it into a big play and also had four receptions for 62 yards.
Hofer had four receptions for 49 yards, numbers that would look much better if degree-of-difficulty catches merited bonus yards.
Named after his great grandfather, Bruce Drake, former quarterback, All-American basketball player and basketball coach at Oklahoma, Hofer did his name proud again.
A 6-footer, Hofer looked half a foot taller on his 19-yard touchdown reception, pulling down a jump ball.
"To be perfectly honest, I called that play because I thought they owed us a pass-interference call," Wedd said. "I wanted the ball in the end zone because it was fourth and a mile. We called all-go, and told Brad to throw it up to one of them. Drake made a great catch."
Mayo said he sees Hofer make that catch routinely at practice.
"I knew he was going to come down with it," Mayo said.
Said Hofer: "Brad put it right where I wanted it. We do a drill called 'Randy Moss,' and we go up over the defensive back and grab it from him."
The members of this senior class bring diverse talents and share one quality: They all have a blast playing football together.
Copyright 2018 The Lawrence Journal-World. All rights reserved. This material may not be published, broadcast, rewritten or redistributed. We strive to uphold our values for every story published.