The concept of a perfect 10 no longer exists in gymnastics. But the gymnasts at Free State High know something about a perfect five.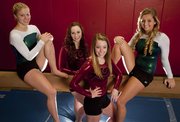 Every time the Firebirds have had their entire lineup available to compete this season, they have finished in first place. Their latest No. 1 showing came last weekend at the Newton Invitational.
They were 5-for-5 on the season before finishing fractions of a point behind host Olathe East at its quad on Thursday night and settling for second after senior Jackie Zaitz was injured in warm-ups and couldn't compete.
The Firebirds are on pace to replicate the success they experienced last season, which ended with their capturing the 2011 Class 6A state championship. Though impressive, this season's supremacy might not be that big of a surprise, considering all of Free State's title team returned.
Seniors Zaitz, Annie Soderberg and Brooke Leslie, junior Hannah Moran, and sophomores Grace Bartle, Carrie Howland and Haley Johnson have thrived under first-year coach Jessica McMurray.
Soderberg said the Firebirds are even better than they were at this time a year ago, because they know each other's strengths and what events require the most attention.
"Now we're just adding on new skills and more difficulty," Soderberg said.
No one is more keenly aware of Free State's successes than their counterparts at Lawrence High, who share McMurray as a coach, while practicing with the Firebirds and competing at the same meets.
"We like to watch them and be motivated by them," LHS junior Cambry Lynch said.
Lynch, one of Lawrence's two returning gymnasts, along with junior Allison Williams, said the Lions — junior Jessie Abernathy, sophomores Heather Wisbey and Sydney Theilen, and freshman Ashley Ammann — try to add new wrinkles to their routines and have the Firebirds help them out at practices. It's pretty common, McMurray added, for a Lion to be on one beam with a Firebird on the beam next to her as they converse and work on routines.
The Lions finished 12th at state last season and weren't nearly as competitive as Free State. This year, LHS has finished second to the Firebirds at two events.
"It'd be awesome to finish ahead of them," Lynch said, "but I don't think that's gonna happen."
McMurray said there is no secret to the Firebirds' success.
"They've been in club gymnastics since they were 5 (years old)," the coach said. "It's not a sport you can pick up, like basketball or softball, your freshman year."
Zaitz said the Firebirds' depth also sets them apart from other programs.
"A lot of the girls from the other schools, I competed against for USAG club gymnastics, and I know them from that," Zaitz said. "But all the other girls (on opposing teams) have just started in high school."
However, Lynch has seen what else makes Free State's gymnasts some of the best in Kansas: "They really push themselves at practice, and some girls are adding new tricks and trying things that they haven't done before just to be a step ahead of everyone else."
The Firebirds acknowledge that Olathe East might be their stiffest competition as they try to repeat as state champions on Oct. 20 at Lawrence High. Zaitz is expected to be back in the lineup by then, but McMurray said the gymnasts will have to stay sharp as the season nears its end.
"We could have two falls here, two falls there, and that could be the difference between first and second," the coach said.
Both Free State and Lawrence will compete today at Shawnee Mission East for the Sunflower League championship.
Copyright 2018 The Lawrence Journal-World. All rights reserved. This material may not be published, broadcast, rewritten or redistributed. We strive to uphold our values for every story published.