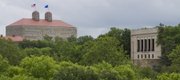 Subscribe to the email edition of Heard on the Hill and we'll deliver you the latest KU news and notes every weekday at noon.
Your daily dose of news, notes and links from around Kansas University.
• OK, folks: It's time to dig up your "Star Wars" reference of choice and pretend that I typed it right here to begin this nugget, because, well, do you really need me to write that "I am your father" or something?
Anyway, one of the newest student groups at KU, per The University Daily Kansan, is Jayhawk Jedi, a group of students eight strong that gathers on the front lawn of Templin Hall to engage in some good old-fashioned lightsaber battling.
They use toy lightsabers they've bought from an online site that specializes in them, for anywhere between $70 and $300. (Some of them will apparently even make "WHOOOOOOM" sounds for you.)
But these are not just people swinging illuminated sticks at each other; they're choreographing performances that they plan to put on show in the future, including possibly on Halloween. So don't be alarmed if you see a fight break out involving brightly lit swords on campus come the end of the month.
• Parade magazine earlier this week offered a list of tips for keeping kids safe from medicine-cabinet dangers, and most of them were courtesy of Joyce Generali, a KU pharmacy professor and the director of KU Hospital's Drug Information Center.
Among her tips are to avoid storing medicine in your bathroom, to be careful with things like drug patches or vitamin supplements along with the pills and liquid medicine you might usually think about, and to make sure that kids won't find drugs in the trash after you throw them away.
• We conclude today with a special guest appearance by Heard on the Hill cubicle-mate Shaun Hittle, who loves both numbers and crime. Take it away, Shaun.
Shaun: Every day we check in on any crimes reported on the KU campus. The KU Department of Public Safety provides the information online, and it's accessible to the public through crimereports.com (Hint: It requires Flash and can take a few minutes to figure out the mapping system).
As I started monitoring the crime map this semester, one thing stuck out: There didn't seem to be much crime reported on campus. I mentioned this to Capt. Schuyler Bailey, the KU Public Safety spokesman. He agreed it seemed quieter than usual on campus this year.
We ran the numbers, and it's true.
In the first 30 days of the 2011 Fall semester, KU Public Safety reported 78 crimes (many of the reported crimes are fairly minor misdemeanors, such as someone's phone being stolen or an underage student caught drinking). The first 30 days this year, however, saw just 46 reported crimes for a 41 percent decrease. Keep in mind, of course, that this is a short time period, and crimes rates and reports fluctuate.
You can find a spreadsheet of the crimes right here.
• Many thanks go to Shaun for his contribution, and many, many thanks will go to you if you're kind enough to send your KU news tips to merickson@ljworld.com.
Copyright 2018 The Lawrence Journal-World. All rights reserved. This material may not be published, broadcast, rewritten or redistributed. We strive to uphold our values for every story published.