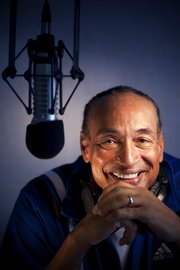 Lawrence is filled with former Kansas University students. After graduation, some leave and come back. Others decide to stay in Lawrence.
For some KU men's basketball players, it's no different.
"I always knew, no matter what direction I went after I got done playing, I knew that's the place I loved to live and retire in," said former guard Jeff Hawkins, who now coaches high school basketball for Perry-Lecompton. "Living in Lawrence, in general — the people are friendly and nice. It was a no-brainer for me."
Hawkins is joined by many others who played in front of fans in Allen Fieldhouse.
Bud Stallworth, the Kansas shooting guard who dropped 50 points against Missouri in 1972, lives in town and has a local sports radio show. Former All-American Wayne Simien is a campus minister at KU. Scot Pollard, former center, has an apartment downtown. Chris Piper, a guard on the 1988 championship team, operates Grandstand Sportswear. Roger Morningstar, the first generation of the Jayhawk Morningstars (his son, Brady, also played at KU), operates Morningstar's New York Style Pizza in town.
The list goes on and on.
Tonight, you'll find Hawkins and many other former players — along with thousands of die-hard KU basketball fans — at Allen Fieldhouse attending Late Night in the Phog.
While late night signals the long-awaited start of another basketball season for KU fans, it also serves as a recruiting tool for Kansas Athletics.
"I committed during Late Night," Scot Pollard said. "When I got here, it was just amazing to be a part of it and be the one in front of the crowd."
Pollard had verbally committed to Arizona, but after experiencing Late Night as a high school senior, he decided KU was the place for him.
"I remember being completely shocked that people cared that much about basketball," said Pollard, who played at KU from 1993 to 1997 before joining the NBA for a career that spanned 11 years.
Lawrence's focus on basketball hasn't changed much since Pollard's arrival on campus. And the former players have found their own community with the community of Lawrence — some work together; others play together.
Pollard and Stallworth work together on the radio show. Hawkins and former point guard Aaron Miles, who frequents Lawrence, gathered last spring at Simien's house to watch the national championship game.
"We shed a lot of blood, sweat and tears on that court," Hawkins said. "When you can be around those guys that you went to war with, it's always good to be close to them. It's good to know that old heads like Bud are still around. They still choose to be around Lawrence, Kansas. That just lets you know how great the community has been to players in general."
Copyright 2018 The Lawrence Journal-World. All rights reserved. This material may not be published, broadcast, rewritten or redistributed. We strive to uphold our values for every story published.