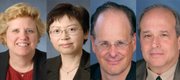 Four Kansas University faculty members were announced Wednesday as winners of the state's most prestigious research prize.
The four winners of the 2012 Higuchi-KU Endowment Research Achievement Awards all work on KU's Lawrence campus. It's the first time that's been the case since 1990. The awards, open to faculty at all Board of Regents universities, have typically also been distributed to researchers at the KU Medical Center and Kansas State University.
The winners, each of whom will receive a $10,000 award to support their research, are:
• Susan Lunte, distinguished professor of chemistry and pharmaceutical chemistry, who received the Dolph Simons Award in Biomedical Sciences
• Rolfe Mandel, professor of anthropology, who received the Irvin Youngberg Award for Applied Sciences
• Jonathan Mayhew, professor of Spanish, who received the Balfour Jeffrey Award in Humanities and Social Sciences
• Judy Wu, distinguished professor of physics, who won the Olin Petefish Award in Basic Sciences.
Each of the four awards, named for former KU Endowment leaders, honors research in different disciplines. Former KU distinguished professor Takeru Higuchi established the awards in 1981 along with his wife, Aya.
Lunte said the award held extra meaning for her because she'd always tried to follow the example of Higuchi, who died shortly before she arrived at KU in 1987. He was a leader in the area of crossdisciplinary research, she said.
"He was a tremendous person and role model and leader," Lunte said.
Lunte is director of the Ralph N. Adams Institute for Bioanalytical Chemistry, and she recently received a five-year, $11 million National Institutes of Health grant to fund research involving scientists from several disciplines. Her research focus has included studying how to help drugs cross the barrier between the bloodstream and the brain, important for treating brain cancer, Alzheimer's disease, depression and other problems. She said she would likely use the award funds to pay for training on brain imaging for her and some students.
Mandel works as a scientist for the Kansas Geological Survey in addition to his position teaching in the anthropology department. He is the executive director of the survey's Odyssey Research Program, which focuses on finding the earliest evidence of people living in the Great Plains. He said the award money would go toward continuing that work.
Mandel said he learned of the honor a few weeks ago.
"But I still haven't gotten over the whole shock of it," he said.
Mayhew has focused research on Spanish poetry, specifically that of the early 20th century Spanish playwright and poet Federico García Lorca.
He used the second of two fellowships he's received from the National Endowment for the Humanities to work on a book published in 2009 about Lorca and his influence on later American poets.
He said the honor was a credit to KU's Spanish and Portuguese department. Several other faculty members from the department have won the award in the past.
"It's a great honor to follow in their footsteps," Mayhew said.
He said he would likely use the award to fund additional trips to Spain, where he travels to keep abreast of the current literary scene.
Wu, in addition to her position in the physics department, is director of the Kansas Center for Solar Energy Research. She could not be reached Wednesday for comment.
A ceremony at KU's Lied Center on Nov. 2 will honor the four winners. Attendance at the ceremony, where Chancellor Bernadette Gray-Little will speak, will be by invitation only.
Copyright 2018 The Lawrence Journal-World. All rights reserved. This material may not be published, broadcast, rewritten or redistributed. We strive to uphold our values for every story published.