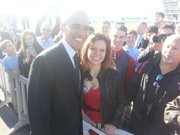 Noel Fisher probably never imagined that getting involved as a student volunteer on President Barack Obama's re-election campaign would lead to a personal meet-and-greet with the president himself.
But that's what happened Tuesday in Columbus, Ohio, where Fisher, a 2012 graduate of Lawrence High School, was among a handful of students who greeted the president as he stepped off Air Force One.
"It was really cool," Fisher said. "I've never been around any presidential figure, ever, and seeing Barack Obama was really cool.
"He knew my name and said, 'It's good to meet you.' That alone was memorable."
Fisher, now a freshman at the Ohio State University, is among a group of student volunteers for the Obama campaign who have been working this fall getting students registered to vote. Tuesday was the last day for voters to register in Ohio, which is expected to be a pivotal state in the Nov. 6 election.
The president's visit, Fisher said, highlighted a campus rally that was aimed at gathering up last-minute registrations. Fisher said about 15,000 people attended the event, which also featured an appearance from hip-hop artist will.i.am of the Black Eyed Peas.
Fisher, who is now majoring in political science and economics, said he got involved in the campaign at the urging of his roommates.
"I'm pretty interested in politics in general, and coming to Columbus, Ohio, which is the capital city of the state, and one of the largest universities in the country — it is just ground zero in this presidential election," Fisher said. "It is definitely something I was interested in doing, and it's opened a lot of doors for me, just being involved in the election."
Several analysts have said Ohio, with its 18 electoral votes, could decide the presidential election. Fisher said he has already cast his ballot and is confident Obama will end up carrying the Buckeye State. But the latest polls indicate that is far from decided.
Although state polls in September showed the president with a slight lead over Republican challenger Mitt Romney, those polls have tightened since last week's presidential debate. The latest polls show the two candidates virtually tied.
Copyright 2018 The Lawrence Journal-World. All rights reserved. This material may not be published, broadcast, rewritten or redistributed. We strive to uphold our values for every story published.