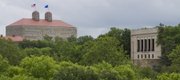 Subscribe to the email edition of Heard on the Hill and we'll deliver you the latest KU news and notes every weekday at noon.
Your daily dose of news, notes and links from around Kansas University.
• I'm preparing to sit in on meetings of the KU Faculty and University senates later this week, and today I was perusing the agendas from those bodies' previous meetings, which were in mid-September just before I took over this post.
One thing I spotted: Student Body President Hannah Bolton was proposing a rule change that would require course instructors to give their students access to the syllabus for each class by a week or two before the class starts, rather than just handing it out on the first day of class as is done now.
This is a problem because if students wish to drop a course after the first day of class has arrived, they receive only a 90 percent refund of the tuition for that course, Bolton said at last month's Faculty Senate meeting. (Left unsaid, or at least unrecorded in the minutes, was the implication that students might want to peruse the syllabus of a class and see exactly what all will be required before they decide if they want to stay in it.)
During a University Senate Executive Committee meeting in September, the idea arose that it may make more sense to just delay the date when students can no longer drop a course and receive a full refund, and requiring early access might have some complications, including the fact that faculty may not take kindly to being required to post a syllabus before they actually begin being paid for teaching.
Another University Senate committee is currently examining the proposal. We'll keep you updated if anything happens.
• In case you've ever wondered what KU entities you can find on Twitter, Facebook, LinkedIn or what have you, KU now provides a pretty easy place to check.
Under the convenient URL connect.ku.edu, KU has what appears to be a pretty exhaustive list of social-media accounts for all kinds of KU schools, departments, offices and groups. It's quite the list. The Lied Center even has a MySpace page.
It doesn't include student groups, so the Twitter account for the KU chapter of the Public Relations Student Society of America does not appear. But it does get a shout-out in this space, because it tweeted a link Monday that drew my attention to the page.
Also not included: @LJW_KU, which you can follow to get your Journal-World KU news in Twitter form.
• Sorry, folks: a time crunch is going to keep today's HotH to only two news nuggets. We'll be back to regular length tomorrow. In the meantime, keep those tips coming to merickson@ljworld.com.
Copyright 2018 The Lawrence Journal-World. All rights reserved. This material may not be published, broadcast, rewritten or redistributed. We strive to uphold our values for every story published.