Topeka — Democrats say that conservative Republican groups that helped defeat moderate Republican state legislators in the August primary by saying they were linked to President Barack Obama and "Obamacare" will do the same thing in the general election against Democrats in state legislative races.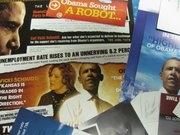 The Republican Party primary was a free-for-all in spending by groups that operate independently from the candidates and those that provide issue ads.
"We have far exceeded this year what has occurred in prior years," said Carol Williams, executive director of the Kansas Governmental Ethics Commission.
For example, the Kansas Chamber of Commerce political action committee spent $675,000 on behalf of conservative state Senate candidates for the primary. The Chamber's ally Americans for Prosperity spent unknown amounts since it doesn't have to report its expenditures because it is an issue advocacy group. Both AFP and the Chamber PAC are funded in part by Wichita-based Koch Industries, which is headed by billionaire brothers Charles and David Koch.
In some of their mailers, the moderate Republican state legislators were accused of being supporters of Obama and the Affordable Care Act, or "Obamacare."
Jeff Glendening, a spokesman for the Chamber, said it was appropriate because some of the moderate Republicans supported increased spending and tax increases.
Asked whether the chamber planned the same strategy to defeat Democrats in the Nov. 6 general election, Glendening declined to say. But he noted, "He (Obama) is the leader of their party."
House Minority Leader Paul Davis, D-Lawrence, said: "The misinformation that came out in the primary elections is undoubtedly going to be repeated again in the general election."
The Kansas Legislature had nothing to do with the passage of Obamacare, since it was an act approved by Congress, signed into law by the president and ruled constitutional by the U.S. Supreme Court.
"The fact of the matter is, there isn't a person in this building (the Kansas Statehouse) that is going to impact whether Obamacare goes forward or not, and the Republicans are simply trying to tie people to what they perceive to be an unpopular issue at the federal level and change the outcome of elections based on it," Davis said.
During the Republican Party primary, several moderate Republican senators said they were leading in their races but in the final weeks were smeared by numerous slick campaign pieces mailed to their constituents day after day.
"If you have enough money, and come out totally negative and pound people and pound people, eventually it makes a difference," said Senate President Steve Morris, R-Hugoton, who was defeated in the GOP primary by state Rep. Larry Powell, R-Garden City.
Morris felt the sting of Americans for Prosperity early on. An AFP postcard sent to voters in the western Kansas district, said, "Unhappy that Obama and five Supreme Court justices are forcing you to accept ObamaCare? Thank Steve Morris. He voted to restrict Kansans' right to opt-out of ObamaCare if the law was upheld. Steve Morris' vote prevented you from having the option to say NO to Obama's radical agenda."
During the last legislative session, Morris voted for a proposed constitutional amendment to be placed on the ballot that said Kansans could not be forced to buy insurance. The amendment was seen as a rebuke to Obamacare. But AFP criticized Morris for also voting for a provision that said if the Supreme Court had already upheld the constitutionality of Obamacare then the state constitutional amendment would not be submitted to voters. Supporters of that provision said it would have been a waste of money to have a ballot measure on Obamacare if the Supreme Court had already decided the issue.
With advance voting in the general election starting Oct. 17, candidates say they expect the onslaught of political mailers to start soon.
Of Democrats, Davis said, "We are going to try to stay focused on jobs, taxes, and education, the issues that we can really do something about here at the state Capitol."
Copyright 2018 The Lawrence Journal-World. All rights reserved. This material may not be published, broadcast, rewritten or redistributed. We strive to uphold our values for every story published.