Overland Park — This one left Dirk Wedd speechless.
Following Lawrence High's 32-15 victory over Shawnee Mission South on Friday, the Lions coach was asked to describe what he saw from quarterback Brad Strauss during the game-changing play: a 28-yard touchdown pass to Erick Mayo with 22 seconds left in the first half.
Photo Gallery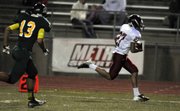 Lawrence High football at Shawnee Mission South
"I don't have any more adjectives," Wedd said after a three-second pause. "He's just a special player.
"People should get out and see him play, because another one's not going to come along for a long, long time."
Here was the setup: Facing a fourth-and-nine with the clock running under 30 seconds in the first half, Strauss rolled left and started to run, freezing quickly to straight-arm a South defender and knock him completely to the ground.
Realizing he was still behind the line of scrimmage, Strauss looked up, then fired deep downfield to his third option, Mayo, who was standing by himself in the end zone.
"I wouldn't have seen him if he hadn't been jumping around waving his arms back there," Strauss said with a smile.
The 28-yard TD catch helped push LHS's lead to 16-7 before halftime following a two-point conversion.
"He happened to somehow find me, and it was just a great play by Brad on that one," Mayo said. "He had a big stiff-arm on the guy. He basically changed the game right there."
The Lions weren't seriously challenged after that, adding a pair of fourth-quarter touchdowns before subbing in a few of the reserves with a 32-7 lead and seven minutes left in the fourth quarter.
LHS (5-1) has now won five straight games — the first time it has done that since the 2005 season.
"It means a lot," LHS senior running back/linebacker Jordan Brown said. "Lawrence High has really been looking to get back on the winning streak. We've won a lot of state championships, and we're just trying to rebuild. We're doing really well right now."
LHS struck first in the opening quarter with a four-play, 32-second touchdown drive following a South fumble.
On a first-and-10, Strauss rolled left to draw a defender, then fired in the flat to Mayo, who ran 38 yards untouched down the sideline for the TD.
It marked the fourth straight game that the LHS offense scored on its first possession.
South answered by cutting the Lions' advantage to 8-7 on a four-yard TD run by Gabe Guild, and the Raiders threatened to take the lead midway through the second quarter.
Following a 62-yard drive, South faced a fourth-and-goal on the LHS 3, but Guild was met in the hole by the defensive back Mayo, who stopped him for no gain.
"The (defensive) tackles were covering two guys, so I was going to be free to make that play," Mayo said. "So I had to step up in there and hit him. He's a great runner, so I just knew I had to get low and hit him at the legs."
Strauss led the Lions on a 13-play, 97-yard TD drive after that, which included the highlight-reel play on fourth-and-nine.
The senior added his third touchdown pass with 9:27 left in the fourth quarter, rolling left before firing a hard pass to Drake Hofer in the front corner of the end zone for a 14-yard score.
Three plays later, Brown scooped up a South fumble and returned it 23 yards for a TD, which helped push the Lions' lead to 32-7.
"I was looking for the ball scattering around," Brown said. "Luckily, it just fell into my hands, and I tried to make a play."
The Lions were able to better slow down the Sunflower League's leading rusher — Guild — in the second half.
After posting 22 carries for 124 yards in the first half, the 5-foot-10 senior mustered just nine carries for 38 yards after halftime.
Wedd credited assistant coach Adam Green with making some halftime adjustments while also complimenting his players for flocking to the ball.
"The little running back's unbelievable. He runs so hard," Wedd said. "You don't get 1,000 yards in five games without being special.
"He was always a concern the whole night. You just have to hang on and hope that enough people will get around him to stop him."
A cold night didn't affect Strauss' passing numbers. He completed 19 of 22 passes for 235 yards with three touchdowns and no interceptions.
Mayo, Hofer and Will Thompson all had at least 65 receiving yards.
LHS will open district play with a home game against Leavenworth next week.
"Those are the games that count for us," Strauss said of districts. "Those are the ones that we're focusing on. We're looking forward to it."
Copyright 2018 The Lawrence Journal-World. All rights reserved. This material may not be published, broadcast, rewritten or redistributed. We strive to uphold our values for every story published.