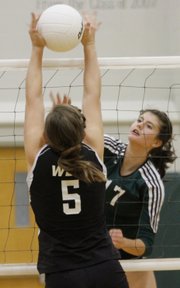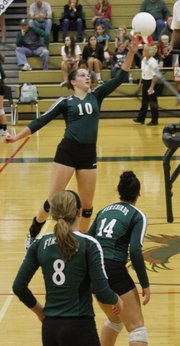 Posters of each of Free State High volleyball's nine seniors decorated the gymnasium wall behind them as the Firebirds celebrated a sweep at their home triangular Thursday night.
Following victories of 25-13, 25-14 against Shawnee Mission West and 25-17, 25-22 over Leavenworth, FSHS coach Nancy Hopkins could have pointed to the posters to identify what led to the team finishing 10-1 in the Sunflower League and clinching a share of the league title with Olathe East.
Hopkins said having nine seniors — defensive specialists Logan Hassig and Faythe Brungardt, setter Katy Davis, outside hitter Shelby Holmes, right-side hitters Molly Ryan and Bailey Harrell, middle blocker Kailee Dudley, libero Kylie Dever and setter Ashley Powers — made Free State's first league title since 2008 possible.
"This particular group of girls is very aggressive," Hopkins said. "They like to hit hard, they like to block big, and they're not afraid to get on the floor when they have to. Usually you have a team that's big blockers or big hitters or are real scrappy, but not all of them all at the same time. But this team's really one of those kind of teams. They're really fun to coach."
Though O-East edged Free State, 25-18, 23-25, 25-23, when the teams met last week in Olathe, both finished 10-1 in the league, and there is no tiebreaker. Holmes said the Firebirds (19-6) took pride in their 2012 crown after they fell short in 2011, taking second.
"It's really nice to get that one really good high school season in before we leave," said Holmes, who had 16 kills at the tri.
Most of Holmes' scoring swings came on Davis assists. Free State's go-to setter said she benefits from having so many skilled players around her, and her teammates always seem to be ready to smash the ball. Davis delivered assists to Holmes, Dudley, Ryan, Harrell and juniors Grace Miller and Morgan Knapp, finishing with 36 in the home sweep.
"There's not one hitter that I don't trust," Davis said. "I can go to all of them, and that really helps us out, because we can really split the blockers and have a chance to score."
Next up for Free State is a Tuesday trip to Kansas City, Mo., for a triangular hosted by St. Teresa's Academy. The matches will be televised on tape delay by Metro Sports. According to the station's website, Free State's match against Shawnee Heights will air at 3:30 p.m. Oct. 11, and the match against St. Teresa's will air at 4 p.m. on Oct. 12.
Copyright 2018 The Lawrence Journal-World. All rights reserved. This material may not be published, broadcast, rewritten or redistributed. We strive to uphold our values for every story published.