News, et cetera, from schools in and around Douglas County: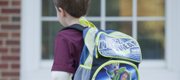 Subscribe to the email edition of First Bell and we'll deliver you the latest local education news and notes every weekday at noon.
• In lieu of wellness fair, Lawrence Memorial Hospital staff will be giving flu shots and the whooping cough vaccine to Lawrence schools staff throughout the month. District employees are eligible for these jabs for free.
• High-schoolers 18 and older can use their school IDs to vote Nov. 6 — as long as they're from the public schools.
Douglas County Clerk Jamie Shew clarified in an email Wednesday that, under the new Kansas law, identification from "county, township, city, school district or other political or taxing subdivision of the state" can be used.
• The Pinckney School Quest Club is kicking off today with the hope to inspire kids' interest in science and engineering. The club aims to get the process going ahead of the annual science fair. Quest meets at 3 p.m. Thursdays at the school.
• Know anything that I need to learn? Send news tips, comments or questions to acgarrison@ljworld.com or call 832-6314.
Copyright 2018 The Lawrence Journal-World. All rights reserved. This material may not be published, broadcast, rewritten or redistributed. We strive to uphold our values for every story published.