News, et cetera, from schools in and around Douglas County: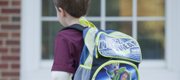 Subscribe to the email edition of First Bell and we'll deliver you the latest local education news and notes every weekday at noon.
• Today is national walk/bike to school day. New York School is participating with a group walk and cycle at 7:15 a.m. from the intersection of 15th Street and Haskell Avenue to the school.
Afternoon update: Journal-World photographer Mike Yoder put together this great video of the New York walk, which features principal Nancy DeGarmo.
• Jeff Plinsky, the debate coach at Lawrence High School, shared some results from the debate team's third week of competition this past weekend at the Manhattan invitational. In the novice division, students Stefan Petrovic and Jesse Belt placed first with a 5-0 record, and Brad Kincaid and Luke Padia placed sixth with a 4-1 record.
• Mark your calendars: The board meetings this month will be a little different than originally scheduled. There's one at 7 p.m. Monday at the district office, 110 McDonald Drive. The next meeting will be a bond issue update from Gould Evans at 5 p.m. Oct. 15. Then, instead of Oct. 22, the next after that will be at 7 p.m. Oct. 29.
• Know anything that I need to learn? Send news tips, comments or questions to acgarrison@ljworld.com or call 832-6314.
Copyright 2017 The Lawrence Journal-World. All rights reserved. This material may not be published, broadcast, rewritten or redistributed. We strive to uphold our values for every story published.