Not all of Lawrence High's girls golfers left Lawrence Country Club Monday satisfied with their scores at the Free State Invitational, but the Lions finished sixth at the 15-team tournament.
Photo Gallery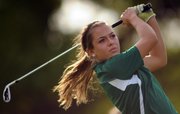 2012 Free State Invitational girls golf tournament
Even superb days from all of its top four golfers wouldn't have allowed LHS to crack the top three — champion Olathe Northwest, runner-up Shawnee Mission East and third-place St. Thomas Aquinas all had team scores between 333 and 336. Still, Lawrence senior Quillen Eichhorn was kicking herself for shooting a 92 and not helping her team post something lower than 376.
A member at LCC, Eichhorn plays the course anywhere from 10 to 20 times a month and considers herself too frequent a customer on the fairways and greens at the club to shoot in the 90s. Her personal course best is an 83, and Eichhorn came in saying to herself: "I can par every hole out here; I can birdie eight holes."
Ultimately, she worked herself into a rut. The same thing happened to her a few days earlier, when she played LCC this past weekend.
"I think I put way too much pressure on myself," the Lions' No. 1 golfer said after tying for 24th.
Junior Abigail Schmidtberger, Lawrence's No. 3 player, finished with the team's best score, 91. As she has done for weeks now, she played with a wrap on her left hand, because she is allergic to her glove. Schmidtberger said her hand feels a little weird during a full swing, but it isn't bothersome at all when putting and she has gotten used to it. She dealt with it pretty easily at the invitational, where she finished tied for 18th.
"I was pretty happy with my score, just because this is a hard course and I don't really play it a lot," Schmidtberger said.
She was one of four LHS players to shoot in the 90s. Senior Attie Pennybaker finished with a 94 and the Lions' No. 5 golfer, junior Campbell Drake, broke 100 for the first time with a 99.
Said LHS coach Kristen Samp: "We're getting a little bit better each time, so that's a positive."
Both Eichhorn and Schmidtberger credited Samp, who serves as the director of instruction at LCC, for getting the Lions ready for the course. Samp said they tried to play at the club as much as they could before the FSHS tourney.
"The main thing I did was made sure they knew how to play 16 — it's kind of a funky hole — and we did a lot of putting, because the greens are fast," Samp said. "Other than that, it's pretty straightforward. What you see is what you get."
It wasn't an LHS golfer who finished with the best score among city players, however. Free State sophomore Emily Bermel's 84 tied her for ninth at the tournament. Upon learning of the accomplishment, Bermel said it was awesome to hear, but she doesn't pay attention to those kind of things.
"It's not just about the Lawrence High scores, but everyone's scores," Bermel said.
The Firebirds' No. 1 golfer fired a 42 on both the front and back of the par-70 course. Her coach, Craig Hershiser, said he can always count on Bermel to play steadily, and she does so by playing sound off the tee box and controlling distances with her irons.
"She doesn't burn a lot of strokes mishitting inside of her scoring range," Hershiser said.
FSHS sophomore Karen Campbell shot a 108, and Free State finished 12th with a team score of 441.
Part of the Firebirds' problem, Hershiser said, was some self-induced pressure at their home tournament.
"I think there's a little of that every year, and there's no reason for that, but it happens," Hershiser said.
The lesson to take away from the disappointment, he added, was that Free State has to approach every tournament the same way, regardless of the venue.
Both Lawrence and Free State play Wednesday at the Olathe East Invitational.
Copyright 2018 The Lawrence Journal-World. All rights reserved. This material may not be published, broadcast, rewritten or redistributed. We strive to uphold our values for every story published.