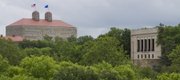 Subscribe to the email edition of Heard on the Hill and we'll deliver you the latest KU news and notes every weekday at noon.
Your daily dose of news, notes and links from around Kansas University.
• Un grupo de estudiantes de KU cree la universidad necesita un menor de Español...
Please excuse that aborted and undoubtedly grammatically unsound attempt to write some of this nugget in Spanish. I did that because, as we told you a couple weeks back, a KU Student Senate bill was aiming to push for the university to add the option of a Spanish minor for undergraduates. (Perhaps so that KU grads might prepare themselves to be able to string more than 14 words of Spanish together without giving up, without needing to pursue a full-blown major.)
At last week's Senate meeting, the bill passed by the count of 68-3, though not before concerns expressed by some graduate teaching assistants in the Spanish and Portuguese Department led to an amendment that would require the department to keep the same ratio of grad students to full-time faculty.
A release from Student Senate says Student Body President Hannah Bolton and VP Brandon Woodard, with the winds of approval by representative government now at their backs, are planning to submit a formal proposal for a Spanish minor to Chancellor Bernadette Gray-Little and Provost Jeff Vitter. That proposal will be bolstered by research and conversations with various administrators, the release said.
We'll keep you posted on further developments.
Related document

• You may have caught this note on how Lawrence placed at No. 8 on a national list of the top college towns, outranking both Columbia, Mo., and Manhattan, Kan.
Rather than simply looking either direction down I-70 with a self-satisfied smirk on my face, I thought I'd dig into the details of the report from the American Institute for Economic Research to see if I could figure out why Lawrence landed where it did. (You can download the PDF at left to take a look at the details yourself.)
The biggest reason Lawrence ascended to the top 10, I'd say, was that its category included only towns with 250,000 or fewer people. So it didn't have to compete with such cities as Austin, Texas (No. 2 in the category of metro areas with 1-2.5 million residents), or Boulder, Colo. (No. 3 among cities with 250,000-1 million people).
But other factors that appeared to be in Lawrence's favor were its percentage of the population ages 25-34 with at least a bachelor's degree (just under 50 percent); a low cost of living (the average rent for a two-bedroom apartment, $536 according to federal data, is apparently lower than that in any of the 74 other cities listed in the report); and simply the high concentration of college students (255 per 1,000 people, via U.S. Census numbers).
You'll notice the rankings are based entirely on demographic data, and not on surveys of residents or visitors or anything like that. So make of that what you will.
The No. 1 cities in the four population categories were Boston; San Jose, Calif.; Ann Arbor, Mich.; and in Lawrence's category, Ithaca, N.Y., the home of Cornell University (much to the delight of Andy Bernard of "The Office" fame, no doubt).
• Dole Institute of Politics Director Bill Lacy was one of several Republican campaign veterans to offer some thoughts on the state of Mitt Romney's presidential campaign with about five weeks before the November election in this story from the Capitol Hill publication The Hill.
Lacy suggests that the campaign has been "flounder[ing] around" since the GOP Convention in August, and he recommends that the candidate cite his business record more frequently.
Also of note, on the subject of the Dole Institute and the presidential election: the institute will show Wednesday's presidential debate at 7:30 p.m., with a focus group of undecided voters sharing their thoughts.
• For us at Heard on the Hill, our tipsters are always No. 1 in our hearts, no matter what metric we use. You can earn that lofty ranking by sending your tips to merickson@ljworld.com.
Copyright 2018 The Lawrence Journal-World. All rights reserved. This material may not be published, broadcast, rewritten or redistributed. We strive to uphold our values for every story published.