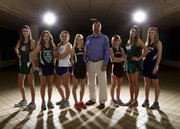 Runner of the year:
Grace Morgan, Lawrence
In her final season running for the Lions, the speedy senior finished in the top three at six different races before illness slowed her down in her season finale at the Class 6A state meet, where she finished 27th in the 4K. Morgan's top time came when she took second at the Topeka Seaman Invitational in 14:59.56.
Coach of the year:
Mike Spielman, Baldwin 
Consistently one of the top teams in the state, Spielman's Bulldogs took third place at the 2012 4A state championship in Wamego. This year, Addie Dick, Fayth Peterson, Libby Verhaeghe, Sienna Durr, Katie Jones and Kaitlyn Barnes were among the runners who excelled under the coach's tutelage.
First team
Amber Akin, Mill Valley — The Jaguars freshman set a school record with a 15:04 run before finishing her first year in the program by taking sixth place at the 5A state championship.
Kate Albrecht, Bishop Seabury — The Seahawks junior won invitationals at McLouth, Louisburg and Burlington, set a program record with a time of 15:18 and was a 2A regional runner-up, helping Seabury get to state.
Kaitlyn Barnes, Baldwin — Her senior season with the Bulldogs included second-place runs at Sabetha, Wamego and a 4A regional, plus a fourth-place finish at the Frontier League Championships.
Grace Morgan, Lawrence — In her last year at LHS, she crossed the finish line first at Shawnee Heights and a 6A regional, was runner-up at Manhattan, Topeka Seaman and Shawnee Mission West events and earned third place at the Sunflower League Championships.
Claire Sanner, Lawrence — In her debut season at LHS, the freshman finished in the top 10 nearly every week for the Lions and ended the year with a sixth-place run at a 6A regional and a 17th-place state medal.
Bailey Sullivan, Free State — Almost every meet the Firebirds junior ran at concluded with her winning a medal, including a 6A regional (ninth place) and the state championship (20th), as she improved dramatically from her sophomore season.
Meredith Wolfe, De Soto — Just a sophomore for the Wildcats, Wolfe had a personal record of 15:22, finished runner-up at both the Frontier League Championships and a 4A regional and ran to an 11th-place medal at state.
Honorable mention
Kelsey Balluch, Eudora; Anna Brown, Eudora; Rebekah Burgweger, De Soto; Addie Dick, Baldwin; Heidi Dumesich, Bishop Seabury; Maddie McCaffrey, Bishop Seabury; Molly McCord, Free State; Emily McEntire, Lawrence; Rosemary Newsome, Free State; Fayth Peterson, Baldwin; Shelby Stephens, De Soto; Danelle Topil, Eudora; Sophia Wetta, Tonganoxie; Ellie Wilson, Mill Valley.
Copyright 2018 The Lawrence Journal-World. All rights reserved. This material may not be published, broadcast, rewritten or redistributed. We strive to uphold our values for every story published.