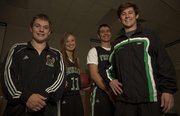 Free State High's winter sports teams are about to get their earliest hints about what the next three months might have in store for them.
With season-opening events beginning this week, here is a look at how the Firebirds feel about their chances on the basketball court, in the swimming pool and on the wrestling mats.
Boys basketball
When the Sunflower League's boys basketball coaches put together a poll to predict the top teams for this season, FSHS coach Chuck Law's Firebirds finished in the middle of the pack — No. 6 out of 12 teams. Considering Free State went 7-14 last year and lost five seniors, Law couldn't complain.
"There's a lot of really good basketball teams ahead of us," he said.
Olathe East was the preseason favorite, followed by Shawnee Mission South, Olathe South, Shawnee Mission East and Lawrence in the top five. Coaches thought enough of Free State's returning core — juniors Reshawn Caro, Cole Moreano, Keith Loneker and Blake Winslow, and seniors Logan Bannister and Kyle McFarland — and junior transfer Khadre Lane, from Bishop Seabury Academy, to pick the Firebirds sixth.
Those outside the program might not yet know about senior forward Cody Scott or sophomore guard Weston Hack, but Law thinks those varsity newcomers should improve the Firebirds' chances, too.
With a challenging nonconference schedule on top of its league slate, Free State will face eight programs ranked in the preseason top 10 in either Class 6A, 5A or 4A. Plus, the Firebirds have 13 of their 20 games on the road.
"We've gotta become a better team at home," Law said. "We have not historically defended our home court very well."
The Firebirds' season will begin Dec. 4 at Topeka Seaman.
Girls basketball
Many factors played into Free State's girls basketball team opening the season as the No. 6 team in 6A, but its senior class might be the biggest reason.
Firebirds coach Bryan Duncan has eight seniors on his roster, and the vast majority of them have varsity experience. Back for their final year in Free State uniforms are starters Abbey Casady, A'Liyah Rogers, Chelsea Casady and Kennedy Kirkpatrick, as well as Courtney Parker, Ariana Frantz, Summer Frantz and Ciara Carey.
Plus, juniors Scout Wiebe and Millie Shade, Duncan said, add some punch to complement the Firebirds' returning starters. Though FSHS has 10 players whom the 11th-year coach can count on to contribute, he expects to stick to a tight rotation, with Kirkpatrick, the Casady twins, Rogers, Wiebe and Shade.
"You can argue we kind of have six starters right now," Duncan said.
Free State finished last season with a program-record 16 wins and the No. 5 spot in 6A's rankings, despite falling short of its first state tournament appearance since 2010 (when its current batch of seniors were freshmen).
Some of the same schools as last year — defending champion Wichita Heights, Sunflower League foes Olathe Northwest and Olathe South, Maize and Topeka Washburn Rural — are expected to join FSHS as contenders for this season's 6A title.
The Firebirds' season begins Dec. 4 at Topeka Seaman.
Boys swimming
As Free State swimming coach Annette McDonald enters her 12th season with the program, she can't help but feel optimistic about the team's experienced swimmers and divers. The Firebirds placed fourth in the Sunflower League and seventh at state last winter, and McDonald said they have the depth to compete with the state's top programs once again.
"We'll be a team to beat, for sure," she said.
Not only does FSHS have six returning seniors — Ben Sloan, Connor Munk, Nickolas Becker, Josh Saathoff and divers Dan Krieger and Wyatt Ohse — but juniors Canaan Campbell, Hunter Robinson, Kyle Yoder and diver Trevor Hillis, as well as sophomores Jack Ziegler, Cooper Schmiedeier and Nolan Stoppel all gained experience a year ago.
"They have both leadership and talent and are coming back swimming really strong," McDonald said.
The coach also anticipates scoring additional points with a batch of newcomers: junior Cade Wright, sophomore Ben Reimer and freshmen Brandon Bunting and Brett Carey.
The biggest challenge with this group, McDonald said, will be determining which swimmers to use in each individual event, because many are talented in multiple styles. Finding the best combination to optimize Free State's scoring is the coach's ultimate goal.
FSHS opens its season at 3:30 p.m. Wednesday at home with the Free State Invitational.
Wrestling
Though Free State's wrestling team finished 22nd last season at the 6A state tournament, third-year coach Mike Gillman thinks this year could be better, due to the infusion of some new talent on the Firebirds' roster.
Ben Soukup, a 160-pound senior, and Maurice Jacobs, a 132-pound junior, return with state experience. Along with 145-pound junior Colton Steele, they give FSHS a foundation of talented returners to help bring along some less-experienced grapplers.
"I feel good about our young kids in the (practice) room this year," Gillman said.
The greatest potential resides in some of the lightweight classes for Free State. With the help of a pair of freshmen — 106-pounder Quailan Fowler and 113-pound Sid Miller — Gillman sees the makings of a solid young team.
The head coach said new assistant Josh Hanson has been preparing the wrestlers with basic techniques that he expects will put them on a successful road as they learn about high school competition. The Firebirds won't have the luxury of waiting to learn the ropes, though. They open the season Saturday at the Gardner-Edgerton Invitational.
"It is completely stacked with many good teams from Kansas, Oklahoma, and Iowa," Gillman said. "It will be a tremendous test for our young kids."
Copyright 2018 The Lawrence Journal-World. All rights reserved. This material may not be published, broadcast, rewritten or redistributed. We strive to uphold our values for every story published.