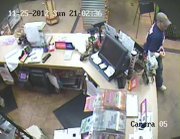 Police are looking for a suspect in a Sunday night robbery at a Zarco 66 convenience store, 1500 E. 23rd Street.
According to Lawrence Police Sgt. Trent McKinley, at about 9 p.m., a white male entered the store and bought an item. When the cashier opened the register, the man demanded money from the drawer, which the cashier provided.
No weapon was used during the crime, McKinley said, and it's not clear how much money was taken.
The suspect was wearing a baseball cap with the logo "WV" on the front and a long-sleeved white shirt under a jersey that possibly had the name "Manning" on the back.
Anyone with information on this incident is asked to call the Lawrence Police Department at 832-7509 or the TIPS Hotline at 843-TIPS (8477).
Copyright 2018 The Lawrence Journal-World. All rights reserved. This material may not be published, broadcast, rewritten or redistributed. We strive to uphold our values for every story published.