Photo Gallery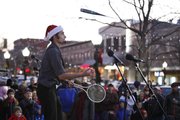 Santa rescue and downtown lighting ceremony
Images from the annual Santa rescue and downtown lighting ceremony on Friday night.
Though Thanksgiving leftovers had barely cooled, downtown Lawrence was beginning to look a lot like Christmas.
On Friday evening, more than a thousand people braved 30-degree weather in front of Weaver's Department Store, 901 Massachusetts St., to watch the annual Downtown Lawrence Holiday Lighting Ceremony and Santa Rescue.
The cast of Theatre Lawrence's "Sound of Music" led the crowd in carols, Mayor Bob Schumm turned on the city Christmas lights, and Old Saint Nick himself made an appearance on top of Weaver's.
Amidst hundreds of bundled-up children chanting "Santa," a Lawrence-Douglas County Fire Medical ladder truck extended firefighters to the roof of the store to lower Santa onto Massachusetts Street so he could take gift requests from Lawrence children.
"It reinforces the Lawrence commitment to family and kids," said Kelly Jimenez, of Lawrence, as she held her son Jude close to her. As for why she came out: "It's been a tradition since we have had kids. I really like the community feel and the hometown, small-town feel."
Jude, 8, was more worried about Santa Claus than a slice of Americana. He planned on asking for a fifth-generation iPod Touch and was confident he had been good enough receive such a present.
"I picked up my shoes," he said matter-of-factly.
Jude and other children weren't the only ones who will get a few presents.
Cathy Hamilton, director of Downtown Lawrence Inc., said the event helps draw business to downtown stores on a day when many people crowd shopping malls.
"It's great for downtown merchants," she said. "Plus it's such a memory for the kids to have."
Copyright 2018 The Lawrence Journal-World. All rights reserved. This material may not be published, broadcast, rewritten or redistributed. We strive to uphold our values for every story published.