Since her husband died nine years ago, this is where Donna Obenland spends her Thanksgiving Day: exchanging smiles and warm greetings through the steam rising from pans of food below with the folks moving through the serving line at the Lawrence Interdenominational Nutrition Kitchen.
A few weeks back, her two children on the West Coast called and asked her if she'd be volunteering at the LINK Thanksgiving dinner again, worried that she'd be alone. Her answer: of course.
And she was far from alone.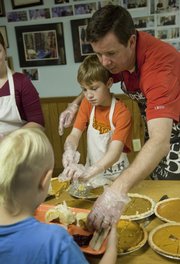 "Have you seen all the smiles?" said Obenland, a Lawrence resident.
Every year but one since her husband died, she's been here.
She and other volunteers at the dinner Thursday afternoon said they were there to give back. But they said they were also there to share in the good cheer spread by the 200 or so smiling and grateful people who came through the line to, for whatever reason, enjoy a free Thanksgiving dinner with all the standards: turkey, mashed potatoes, gravy, stuffing, pumpkin pie and more.
"It's a very festive place to be," said Dianne Sisk of Lawrence as she fanned herself with a potholder back in the kitchen.
With four ovens going and a restaurant-style dishwasher running back there, it gets pretty sweaty. But Sisk, who was volunteering at her third LINK Thanksgiving, said the good feelings in the air made her trips back and forth between the kitchen and the serving line well worth it.
Lisa Henry of Lawrence was volunteering at her first-ever LINK dinner. She knew all her family would be away on Thanksgiving, so she figured she might as well spend the day helping others.
"I like to make people happy," Henry said.
Henry learned as she scooped mashed potatoes that some people like them on top of their turkey, some like them just next to their turkey and some like them in a different tray compartment altogether. But no matter where they wanted their potatoes, she followed up her scoop with a cheery "Happy Thanksgiving!"
Most people returned the same greeting with a smile.
Sean Smith came along his wife and their four kids, ages 13, 12, 10 and 7.
He said he suspected his 10-year-old son J.J., who was serving slices of pumpkin pie, might not have wanted to step away from the neighborhood football game he was playing in earlier. But he hoped the kids would learn something about helping others.
Like many of the other volunteers, the Smiths already volunteer at LINK one day per month through their church.
The kitchen, located below First Christian Church at 221 W. 10th St., offers meals at 1 p.m. every Tuesday, Thursday, Saturday and Sunday along with holidays.
LINK director Greg Moore said a common misconception is that the kitchen is meant to serve only the homeless. The Thanksgiving meal, like all other meals served there, was open to anyone.
Volunteer spots, though, were in high demand. Moore had to limit the number to 18 so things didn't get crowded, and the slots filled up by late October.
"We had to turn away a lot," Moore said.
Moore said the kitchen bought 30 turkeys before the dinner, which was easily enough to serve the 191 people who came through, including seconds for those who wanted them. The food was prepared earlier at Maceli's and brought over by other volunteers.
For Henry, her first Thanksgiving volunteer experience made for a great time, she said.
"It makes everybody feel a whole lot better," she said.
Copyright 2018 The Lawrence Journal-World. All rights reserved. This material may not be published, broadcast, rewritten or redistributed. We strive to uphold our values for every story published.