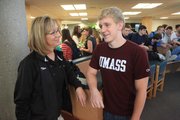 When Ben Sloan arrives at the University of Massachusetts campus next fall, he might owe an old swimming rival a huge favor.
The Free State High senior signed with the men's swimming team at UMass Tuesday afternoon, but it was months ago that Blue Valley North graduate Michael Glenn, now a sophomore with the Minutemen, recommended Sloan to his college coach, Russ Yarworth.
Sloan, who has swum 10 seasons with the Lawrence Aquahawks, raced against Glenn most of his life.
So when Yarworth happened to joke around with Glenn one day about needing more Midwest swimmers at UMass, Glenn immediately thought of his former Sunflower State competitor.
The fact that Sloan could give UMass another strong option in butterfly events (he holds the Firebirds record in the 100 fly: 51.11 seconds) made Glenn's support for him all the more convincing. Yarworth did some research on Sloan, and before the swimmer knew it, he was scheduling an unofficial summer visit to the Amherst, Mass., campus.
"He took kind of a wild gamble with me, and it paid off," Sloan said.
Accordingly, the FSHS senior knows he owes Glenn.
"I'm sure freshman year, he'll make me repay it," Sloan said after signing his national letter of intent.
Sloan made his official recruiting visit to UMass in September, and he was sold on the program after getting a feel for student life, meeting the team and watching practices. After he orally committed, one of the first people he texted to share the news was Glenn, who showed him around on the trip.
Free State coach Annette McDonald said the UMass program will enjoy Sloan's personality, talent, speed and love for swimming as much as she has.
With his signing out of the way, Sloan (FSHS record-holder in the 200 IM with 1:56.03) is looking forward to his senior season with the Firebirds.
"It's my last one here at the high school. If I get more records, if I don't, if I have a great season or don't have a great season, I just want to remember it," Sloan said. "All the pressure's off me, so I just want to have fun."
Copyright 2018 The Lawrence Journal-World. All rights reserved. This material may not be published, broadcast, rewritten or redistributed. We strive to uphold our values for every story published.