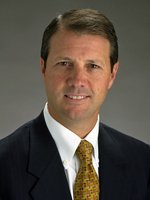 The third finalist named for the vacant top job at the Kansas University Medical Center is an internal candidate, an associate dean in the School of Medicine.
Douglas Girod, senior associate dean for clinical affairs for the medical school, is the final candidate announced by KU for the executive vice chancellor position at the medical center. He is set to appear at a public town-hall meeting from 4:30 to 5:30 p.m. Tuesday in the G013 School of Nursing Auditorium on the KUMC campus.
Girod is also the chairman of the medical school's Department of Otolaryngology and Head and Neck Surgery. He came to KUMC in 1994.
He earned his medical degree from the University of California at San Francisco in 1985 and completed two residencies and a National Institutes of Health research fellowship at the University of Washington in Seattle.
More of Girod's career information is posted on a KUMC webpage set up to track the executive vice chancellor search.
Norman Beauchamp, the chairman of the radiology department at the University of Washington, visited campus earlier this month as the first candidate announced, followed by Steve Nelson, dean of the School of Medicine at the Louisiana State University Health Sciences Center in New Orleans.
KU officials said last month that the hiring decision for the executive vice chancellor job would be in the hands of Chancellor Bernadette Gray-Little after the candidates' visits are finished. Tim Caboni, vice chancellor for public affairs, said at that time that no firm timeline had been set for a hire.
Copyright 2018 The Lawrence Journal-World. All rights reserved. This material may not be published, broadcast, rewritten or redistributed. We strive to uphold our values for every story published.