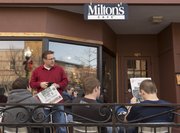 -->
Breakfast lovers found a bittersweet flavor in the coffee and pancake syrup at Milton's on Sunday morning.
The popular breakfast landmark was packed with regular customers, as usual, and it was just as noisy as ever with chatter and clinking glasses. Dozens huddled around the front door, looking forward to bacon and eggs, familiar faces and were generally not complaining about the 30-minute wait. Staff posted a sign up front reading: "In light of our closing ... please be courteous of others waiting to enjoy Milton's."
Most were well aware it was the final day of business for Milton's at 920 Massachusetts St. It became a topic of conversation at many tables, where regulars had been sitting down together for up to 15 years.
Fischer Almanza, a senior at Bishop Seabury Academy, said he had been coming in for french toast after church, along with his little sister and his parents, since he was a child. Like many, Almanza already missed Milton's and didn't know what he would do for breakfast in the future.
"I have no clue," he said. "There are other breakfast places but not like this. It's insanely depressing."
Owner David Lewis said it was emotional for him, too.
"A lot of friends, a lot of customers, have been with us since we opened," he said. "People have been bringing their kids here since they were born."
Rosalee Roth, of Lawrence, brought her grandson, Ry, and his wife, Katherine, to Milton's knowing it was the last day. This was one place she used to think of while living away from Lawrence for years, wishing she could go in and sit by the window with a cup of coffee.
"I'm sad," she said. "I was surprised when I read in the paper that it was closing."
Lewis said he isn't ready yet to talk about exactly why Milton's is closing, but he's said before it's not because of any drop in business. As previously reported, he is staying busy as a partner in Loopy's, a new restaurant opening the week after Thanksgiving at the 901 Building, the multistory apartment building at the southwest corner of Ninth and New Hampshire. Lewis said he was excited about the new venture, which would be different but would in many ways fulfill the original vision of Milton's, serving breakfast, lunch and dinner, and serving wine, craft beers, and other spirits until 11 p.m.
Lewis also said he plans to bring all Milton's employees with him to Loopy's, which might be reassuring to longtime customers like Karen Abraham and Gayan Stanley, of Lawrence.
Abraham and Stanley said they've been eating at Milton's for 12 years and not just because they like the pancakes. They've also enjoyed getting to know the wait staff, often college students who would talk about their various studies or travels. Over the years, they watched some become grown-ups with kids of their own, and Abraham, a music teacher, has given lessons to some of those children, including Lewis'.
"You get to know their names; they know your name," Stanley said. "It's a nice sense of community."
Even out-of-towners knew Milton's. One group from Chicago came Sunday because their hotel recommended it and had no idea it was the last day. Another group, including Betsy Bernard and Rachel Dobbs, of New Jersey, said for years they've stopped in for breakfast every time they come to Lawrence to visit family. They always recommended Milton's to other travelers and had just texted news of the closing to a restaurant-owner friend in Puerto Rico, who they said was "very upset."
"We're crushed," Bernard said. "This is where we want to be."
Copyright 2018 The Lawrence Journal-World. All rights reserved. This material may not be published, broadcast, rewritten or redistributed. We strive to uphold our values for every story published.