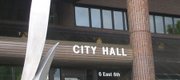 Subscribe to the email edition of Town Talk and we'll deliver you the latest city news and notes every weekday at noon.
Well, the spirits of some this morning may be flatter than a pancake. I've received official word that Milton's, one of Lawrence's favorite flapjack and breakfast spots, is set to close for good later this month.
Owner David Lewis confirmed to me this morning that the last day of business for the restaurant/coffee house at 920 Massachusetts St. likely will be Sunday, Nov. 18.
"It is a really odd deal," Lewis said. "We know a lot of people are going to be really disappointed. It is pretty emotional for us."
Lewis said he plans to release more details about the pending closure in the next few days.
As we previously have reported, however, Lewis is remaining in the restaurant business. Lewis has signed on to be a partner in a new restaurant in the 901 Building, the multistory apartment building at the southwest corner of Ninth and New Hampshire. Lawrence marketing executive Billy Pilgrim and Lawrence chef Sula Teller also are partners in that project. Lewis said that restaurant — its name hasn't been publicly released yet — is scheduled to open the week after Thanksgiving.
Lewis told me this morning that his original intention was to operate both Milton's and the new restaurant in the 901 Building. But something, somehow has caused that to change.
Lewis said people who believe Milton's simply will be picking up its menu and traditions and moving them to the 901 Building aren't correct. As we reported back in September, the new restaurant is slated to serve breakfast, lunch and dinner. The business also is slated to be open until 11 p.m. at night and serve wine, craft beers and other spirits. Lewis reminded me that sort of was the formula for Milton's when it first opened years ago.
"The new place will be a dream come true for me," Lewis said. "I really can't describe how excited I am about it."
Lewis said he had discussions with several people about carrying on the Milton's name and menu, but none of those deals came to fruition for various reasons.
I'll go back to what Lewis first said when I approached him this morning. This is a really odd deal. Lewis confirmed the closure has nothing to do with a drop in business. That appears evident. I can guarantee you there was not a busier restaurant in downtown this morning. I think most patrons of Lawrence's restaurant scene would agree that Milton's is probably the busiest breakfast restaurant in the city.
Lewis leases the building, and he said he wasn't certain whether the landlord has another business lined up to go into the spot. According to ownership records at the Douglas County Courthouse, the building is owned by Terra Firma LTD. According to business records from the Kansas Secretary of State's office, the company is led by Michael Nelson, a businessman from Alma.
I expect the closing of Milton's will create some ripple effects in the downtown restaurant scene. I already have seen a sign advertising that Cielito Lindo, the Mexican restaurant at 815 New Hampshire St., will start serving breakfast. (I'll have to double check the sign to remember whether it is every day or just on weekends. I'll report back.) I'm also checking on a tip that another established restaurant in downtown will be adding a breakfast menu. I'll let you know what I find out on that as well.
• Maybe chocolate will improve your mood. You'll have a chance to find out this weekend.
The Lawrence Community Shelter's annual Chocolate and Tea at Three fundraiser is set for 3 p.m. Sunday at Maceli's, 1031 New Hampshire St.
The event features gourmet tea and coffee along with an exotic assortment of chocolate desserts from local restaurants and local bakers.
I'm fearful the event also may feature a bloodied reporter. I will be one of a handful of local judges sampling entries in the chocolate contest. I'm not sure exactly how my wife will react as she watches me take large, slow bites of exotic chocolate creations. (Perhaps just inches from her face.) All I know is that I still have scars from the time I accidentally opened her box of See's chocolates. (I understand some people go to the Nebraska Furniture Mart to max out their credit cards on actual furniture. Heaven help me if my wife ever notices there is more to the building than the See's candy shop near the entrance.)
Anyway, tickets for the event are $25 and are available for purchase at the door. Proceeds from the event will help fund programs and services for the homeless shelter.
• If you want to warm up in the chocolate category, I've been told Mass Street Sweet Shop, in the former home of Cupcake Construction Company at 727 Massachusetts St., is opening today.
As we previously reported, Mass Street Sweet Shop is being opened up by members of the Jimenez family in Lawrence, and the shop will be trying to bring back some of the same type of sweet offerings that the former Penny Annie's location offered before it closed.
The shop also will be keeping the cupcake offerings from Cupcake Construction Company. I'll try to make my way over there today and post a better description later. But first I have to get these home equity loans with my banker signed. If I don't do that before my wife gets to the shop, I'll be financially ruined.
• This news just in from the Lawrence Convention and Visitors Bureau.
The organization has hired longtime Lawrence marketing executive Christina Phelps to serve as its new executive director. Phelps is the former director of sales and marketing for Knology's Kansas corporate division, and for years before that worked for Lawrence-based Sunflower Broadband.
Phelps also has worked in sales and marketing for the Lodgian Hotel Group, including Lawrence's Holiday Inn and Convention Center.
Phelps role with the Lawrence Convention and Visitors Bureau will be to grow the number of conventions and visitor dollars that come into the city. In 2011, the group estimates about $60 million in the city.
Phelps replaces Susan Henderson, who left the organization for other opportunities earlier this year. Phelps begins her new duties immediately.
Copyright 2018 The Lawrence Journal-World. All rights reserved. This material may not be published, broadcast, rewritten or redistributed. We strive to uphold our values for every story published.