Overland Park — A potential dream season for the Free State High football team died Friday night at Shawnee Mission South District Stadium, courtesy of a nightmare ending.
Photo Gallery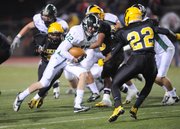 Free State v. Shawnee Mission West
Photos from Free State's state semifinal game against Shawnee Mission West.
Box score
FSHS SMW
First downs 13 7
Rushes-yards 54-315 34-206
Passing yards 19 114
Total offense 334 320
Return yards 34 114
Fumbles-lost 1-0 1-0
Penalties-yards 4-47 2-30
Score by quarters
FSHS 6 0 0 15 — 21
SMW 14 13 14 7 — 48
Individual statistics
Rushing
FSHS: TJ Cobbs 11-146 TD, Joe Dineen 13-95 TD, Kyle McFarland 20-37, Demarko Bobo 8-30, Tye Hughes 1-5, Keith Loneker 1-2.
SMW: Brett Sterbach 18-89 TD, Tory Powell 3-55, Raymond Cherry 4-43, Steffon Ward 4-19, Jaunyae Stallings 1-4, Quinn Harrold 1-2, Team 2-minus-2, AJ Verdini 1-minus-4.
Passing
FSHS: McFarland 4-18-19 TD one interception.
SMW: Verdini 5-10-114 2 TDs.
Receiving
FSHS: Hughes 3-18 TD, Dineen 1-1.
SMW: Ward 1-34 TD, Andre Maloney 1-33 TD, Mitchell Wade 2-30, Jel Spiller 1-17.
HOW THEY SCORED
First quarter
6:20 — Joe Dineen 4 run. Antonio Schnoneich kick failed. (FSHS 6, SMW 0.)
4:30 — Andre Maloney 33 pass from AJ Verdini. Joey Reed kick. (SMW 7, FSHS 6.)
4:04 — Ben Lake 2 punt return. Reed kick. (SMW 14, FSHS 6.)
Second quarter
9:15 — Reed 32 field goal. (SMW 17, FSHS 6.)
5:05 — Steffon Ward 34 pass from Verdini. Reed kick. (SMW 24, FSHS 6.)
0:00 — Reed 43 field goal. (SMW 27, FSHS 6.)
Third quarter
11:44 — Maloney 82 kickoff return. Reed kick. (SMW 34, FSHS 6.)
7:21 — Brett Sterbach 2 run. Reed kick. (SMW 41, FSHS 6.)
Fourth quarter
7:20 — Tye Hughes 12 pass from Kyle McFarland. McFarland run. (SMW 41, FSHS 14.)
6:33 — Tory Powell 1 run. Reed kick. (SMW 48, FSHS 14.)
6:09 — TJ Cobbs 78 run. Schnoneich kick. (SMW 48, FSHS 21.)
Even a commanding opening drive for the Firebirds did the team no good against Sunflower League champion Shawnee Mission West, which turned three different FSHS special teams flubs into touchdowns and scored 41 unanswered points in a dominating 48-21 victory in the Class 6A state semifinals.
The first inklings of what would become an ugly drubbing showed up less than eight minutes into the game for Free State (10-2). Down 7-6 after both teams scored touchdowns on their opening drives, the Firebirds' second possession stalled out with three straight incomplete passes by quarterback Kyle McFarland. When the senior QB took the fourth-down snap and stepped into a punt, the ball nailed Joe Dineen, who was a few yards in front of him to block, in the backside. Vikings senior Ben Lake picked up the ball at the two-yard line and scored an easy touchdown.
Though the mistake only gave SMW a one-possession lead, Free State coach Bob Lisher pointed to that play as the beginning of his team's demise.
"You could kind of see the wind get sucked out of us after that first punt off the protector's butt for a touchdown," Lisher said. "From then on, it was kind of a downhill struggle."
The Firebirds only managed one first down on their next five possessions in the first half while SMW (11-1) added a pair of Joey Reed field goals (including a 42-yarder to close the second quarter) and added a 34-yard touchdown pass from quarterback AJ Verdini to fullback Steffon Ward to take a 27-6 lead into halftime.
It all came as a bit of a shock to the Firebirds, who picked up six first downs and moved the ball 89 yards on their opening drive. They even took a 6-0 lead with a four-yard rushing touchdown by Dineen.
Said McFarland: "We marched the ball down the field the first time, then after that it broke down and we didn't overcome the adversity."
Any shot FSHS had at recovering in the second half evaporated on the opening kickoff of the third quarter, when SMW junior Andre Maloney took a reverse 82 yards for a touchdown.
Then, going from bad to disastrous, the Firebirds' opening second-half possession ended with another McFarland punt that bounced off of Dineen. The Vikings recovered the ball at the FSHS 15-yard line and six plays later SMW senior running back Brett Sterbach (18 carries, 89 yards) rushed for a two-yard TD. After a Reed extra point SMW led 41-6.
McFarland didn't know what to make of the punt blunders.
"I don't know if I came up too much or he came too far back, but it happened twice and you can't do that in this kind of game," McFarland said.
The whole loss was hard to explain for Lisher.
"We gave them 21 points on special teams — two off of hitting our protector in the back with the ball, then the kickoff return," the coach said. "We had people there (on the return). They just ran a simple little reverse. Our contain guy was there. We just didn't make the play. Then (Maloney) made a couple of other guys miss going for the touchdown. That's 21 points right there. When you're struggling a little bit offensively, that's not good."
Senior FSHS running back TJ Cobbs came up big in the second half, when the game was out of hand, and tried to keep things respectable. Cobbs finished with 146 yards on an 11 carries, most of that production coming on a 78-yard TD in the fourth quarter.
The biggest issue for Free State was the Vikings' pressure on McFarland, who spent most of the night trying to run away from SMW defenders. On 10 occasions, the Vikings hit Free State's senior quarterback in the backfield. McFarland, a consistent dual threat all season, had 37 rushing yards on 20 carries and completed just four of his 18 passes for 19 yards with a touchdown (caught by Tye Hughes) and an interception.
It wasn't being chased or throwing under duress that proved the most tiring, though.
"This was just emotionally kind of tough on all of us," he said after the season-ending loss that kept Free State from reaching its first title game since 2008.
Senior linebacker Corban Schmidt said a 27-point loss was the last thing the Firebirds, who had won eight straight, expected in the state semifinals.
"We couldn't get anything going for us," Schmidt said, post-game tears still fresh on his face. "We'd have penalties, we'd have turnovers, we had people who weren't doing their job. Everything that could go wrong went wrong for us, and it was our own fault."
Lisher agreed that his team simply didn't play well, which went against everything it had accomplished in the previous 11 weeks.
"I don't know what it was. Something in the air," Lisher said. "Something … we were snakebit from the start."
Even stranger, McFarland said, was the finality of it all.
"It's just gonna be weird not playing with some of the best friends I've ever had," he said. "It's sad. It's one of the worst feelings I've ever had in sports."
SMW will face Hutchinson (10-2) Saturday, Nov. 24 at Washburn University's Yager Stadium, in Topeka. Kickoff is at 1 p.m.
Copyright 2018 The Lawrence Journal-World. All rights reserved. This material may not be published, broadcast, rewritten or redistributed. We strive to uphold our values for every story published.