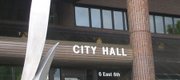 Subscribe to the email edition of Town Talk and we'll deliver you the latest city news and notes every weekday at noon.
News and notes from around town:
• It probably goes without saying (since I've said it here, here and at innumerable dinner parties) that square hamburgers are a sign of communism. (A certain fast-food hamburger chain no longer invites me to its dinner parties. )
But what is a shapeless hamburger a sign of? I don't know — yet — but we'll all have a chance to investigate. A new restaurant — the Sandwich Bowl — has opened in West Lawrence, and one of its mainstay menu items is something it calls a Betta Burger. What makes it "betta," apparently, is the lack of a patty.
Instead, the hamburger is served loose-meat style — like a sloppy joe without the sloppy. Sometimes a fork is involved in eating this hamburger (that's sounds to me like how Fiddle Castro would eat a hamburger, but I'll withhold judgment), which has led to the restaurant's slogan of "forking awesome."
"The burgers are basically loose meat and chopped on the grill," said Andy Smith, a manager at the store. "We think it is the sort of thing that kind of sets us apart."
That is one way to say it. Another is it is the sort of thing that draws the attention of the U.S. intelligence community. I guarantee you an FBI file has been opened on this. (If you don't believe me, just ask Petraeus. He's easy to contact via email.)
We reported back in August that the Sandwich Bowl was moving into the space previously occupied by Blue Chip Gourmet in the shopping center next to Hy-Vee at Clinton Parkway and Kasold. The restaurant opened about a week ago.
In addition to the betta burgers, the restaurant serves traditional deli sandwiches and several hot sandwiches. The hot sandwich selection includes its signature sandwich, the Flying Pig — which has thinly sliced, oven roasted pork loin, bacon, pepperoni, yellow onion, Monterey jack cheese and salsa ranch dressing.
The restaurant got its start in the tiny town of Harlan, Iowa. The restaurant still operates out of a historic bank building in the town of about 5,000 people. But the draw of Kansas University had brought the family to Lawrence on several occasions, and now the son and daughter of the restaurant's owners have moved here to launch the Lawrence restaurant.
The fact the restaurant has its roots in Iowa gives me comfort. Iowans are many things (wanna-be Nebraskans, people who consider a vacation a trip to Kansas City to watch the Big 12 basketball tournament, and masters of seamlessly working in the phrase "flying pig" into conversations and menu items), but they are not communists.
It also is an encouraging sign that the restaurant serves soup. Each day, the restaurant will have at least one homemade soup, although many days they have up to three. The soup menu changes every two weeks, but recently it has included Italian wedding soup, cheesy potato, ham and bean, chicken noodle dumpling and beefy mushroom barley.
But what's encouraging is that on Election Day, the restaurant served a soup that simply was titled "Ronald Reagan." I don't know what is in Ronald Reagan soup (Democrats will say deficit spending and Republicans will say freedom), but regardless of how you felt about our 40th president, I think we all can agree that he really didn't like communism.
• I'll bet you one thing Ronald Reagan did like is drive-through banking lanes. Lawrence residents sure do, and that has caused a regional credit union to start making new plans in the city.
Meritrust Credit Union has announced that it is closing its downtown branch at 643 Massachusetts St. on Dec. 14 and will open a new branch in the former Central National Bank building near 23rd and Harper streets on Dec. 17.
The 23rd and Harper location, which is just south of the Kwik Shop and has been vacant for several months, has a drive-through lane. Jamie Taulbee, a spokeswoman for Wichita-based Meritrust, said that was a key consideration. Taulbee said Meritrust has been in the Lawrence market for about five years, and customers have been asking about the possibility of a drive-through lane for about that long.
"We love the Lawrence market," Taulbee said. "We're very happy to bring them what they have been asking for."
Meritrust's other Lawrence location, 4821 W. Sixth St., also does not have a drive-through lane. But Taulbee confirmed the speculation I've heard, which is Meritrust has signed a deal to locate in the new mini-shopping area that currently is under construction behind Famous Dave's BBQ at Sixth and Congressional. (As we previously have reported, the center also will have a Papa Murphy's, a martial arts business and a wireless phone store.) That location will have a drive-through lane. Taulbee, though, didn't have a timeline for that branch to open.
Allison Vance Moore of Lawrence's Colliers International helped broker both deals.
• Here's one last reminder for those of you scratching your heads about what to do with your old trash cans. As you should know by now, the city of Lawrence is requiring residents to start using a standardized trash cart. The wheeled-plastic carts have been delivered to houses (I believe the process is either already done or will be completed by today). City crews tomorrow — Friday, Nov. 16 — will conduct the last of their trash cart recycling pick-up programs.
If you have a trash can you no longer have a use for, you can set it at the curb by 6 a.m. tomorrow. Make sure the can is empty, and mark and "X" on the can so that crews know you want it removed.
Plastic cans will be recycled and made into future plastic trash carts. Metal cans will be recycled for use as scrap metal.
City officials, though, are reminding residents that their old trash cans still can be used to set out yard waste materials. Plus, the city says the cans can be good storage containers and used for other purposes. So, get creative with your old trash cans, or set them out by the curb early tomorrow morning.
For awhile there, I had thought residents were going to use their old cans as drums to beat during protests about having to use these new standardized carts. But, thus far, I haven't received one call from a resident complaining about the new trash cart system. (I'm not asking for any, mind you.) I believe the city has received some complaints, but my understanding is the volume has been pretty low. Now that everybody will have their trash carts, we'll see what the next few weeks bring.
Copyright 2018 The Lawrence Journal-World. All rights reserved. This material may not be published, broadcast, rewritten or redistributed. We strive to uphold our values for every story published.